Suffusion Theme Tutorials
Suffusion Theme Tutorials post provides a list of tutorials I have created for everyone to read and learn from. This list will grow in time.
Last Updated: February 15, 2018
Latest News: I have updated the information below and added a link to Drakes PHP 7 fix.

Important: Drake has released a patch for the warnings you might receive if your server is running PHP 7. Please check the following URL solving-the-warnings-generated-by-suffusion-on-servers-with-php-7 to learn more.
Note: At present Suffusion is no longer available in WordPress repository. You can read more about it from the following URL did not meet the requirements. However I will keep on updating the tutorials and hopefully someone takes on the project and keeps Suffusion alive.
Good News: Sayontan has released version 4.4.9. Click on the following URL Suffusion 4.4.9 to learn more about the new version and the changes made. Since the new version 4.4.8 has removed all shortcodes. You will have to install Suffusion Shortcodes Plugin if you are using or going to use shortcodes related to the theme. Sayontan has released the raw code and a small updated version. Please check the following URL Legacy Suffusion Version Availability.
In the meantime I have started looking at other WordPress theme frameworks. There are many out in the market and currently I am testing Teamplate Toaster. You can start reading my tutorials from the following URL Design WordPress Themes Using TemplateToaster Software. I will be adding more tutorials and comparison between both themes.
I am using Suffusion with the latest version of WordPress 4.9.4 and it works really well. I am also testing Suffusion with WordPress 5.0 Alpha, so far no errors are appearing.
Suffusion Theme Tutorials
Suffusion is one of the best Free themes with framework included you will find in the market. Sayontan Sinha the author of this great theme is constantly updating it to stay up to date with changes in wordpress and issues that are reported by users.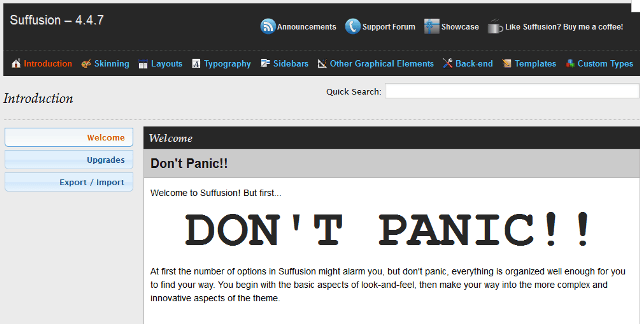 Must Read First
WordPress Theme Suffusion This post talks about Suffusion and shares information about the latest version.
Theme Check List This post shows you a simple basic list to get you started.
Options Settings This post will illustrate the complete suffusion layout. This is good for beginners and advanced users alike.
Advertising:
Adding Adsene This post show you how to add adsense to your post or pages using built in shortcodes.
Add a Pricing Table This post will shows you how to add a pricing table using Suffusion theme and Easy Pricing Tables.
Child Theme:
Create a Suffusion Child Theme in a Few Steps This post helps you to create a suffusion child theme in a few steps. Sayontan Sinha has released this amazing child theme for everyone to use.
Facebook Page:
Display Facebook Pages In WordPress Using Suffusion This post will show you in simple steps how to display your Facebook pages on your website.
Integrate Google Search Engine:
Google Custom Search Engine Create New This post shows you a simple way to customize the search box in your website using Suffusion WordPress theme.
Google Analytics This tutorial will guide you and help you set up your Google Analytics in Suffusion theme.
Layout:
Theme Layout This tutorial illustrates the different layout structure and at the same time check out the most commonly used website layouts.
Add a Header Image This post will show you how to add a header image to the website. This is a very simple tutorial which everyone should be able to follow.
Custom Style Navigation Bar This post teaches you how to add some style to the navigation bar above the header.
Menu:
Menu above the Header This post will show you how to add a Suffusion menu to the Navigation bar above the header on your website or blog.
Mega Menu This post will shows you how to add an extra mega menu to your navigation bar.
Performance:
How to Speed Up Suffusion and WordPress This post will help you improve Suffusion theme and WordPress to work better and faster. I always work with a child theme as recommended by many developers including myself.
Responsive Settings:
Responsive Settings This post shows you how to configure the theme to be responsive.
Shortcodes:
How To Add Suffusion Author Short Codes This post teaches you to display suffusion author short codes in pages and or post.
Suffusion Shortcodes Plugin This post talks about all the shortcodes you can add in the theme when using this plugin.
Slideshow:
Add a Slideshow This tutorial will show you how to add a slideshow using Photonic.
Add a Slideshow to Text Widget This post is similar to the previous tutorial but the difference is you will be adding a slideshow to a text widget anywhere on your Suffusion theme.
Social Media Sharing:
Social Media Widget Settings This post show you how to add the widget to your website backend. Set set up a few social media accounts.
Social Media Widget Feedburner This post will show you how to set up feedburner to work with suffusion theme.
Templates
Suffusion Theme Custom Layout Template Design Page Shows you how to display different widgets in a page with different categories.
Translation Settings:
Translate Suffusion Theme Into Another Language This tutorial will help you to translate your Suffusion theme into the language of your choice as long as it has been translated and found in Suffusion translate website.
Edit Suffusion Translation Using Poedit This tutorial will show you how to many any number of changes to your language file. In this tutorial we are going to make some changes to the es_ES.po file.
Widgets:
Ad Hoc Widgets This post shows you how to set up and enable the ad hoc widgets in your website page or post.
Query Posts Widget This post shows you how to set up this very powerful widget to display your posts based on a category.
Troubleshooting
======================================
Remember come back for more great tutorial's.
Enjoy.