Suffusion Theme Ad Hoc Widgets Tutorial shows you how to set up and enable the ad hoc widgets in your website page or post.
Suffusion has many extras that some of you don't know about. Ad Hoc Widgets is one of these extras. To use the ad-hoc widgets, you need to install the additional plugin Suffusion Shortcodes. I have added a link below for the plugin.
What You Need:
Suffusion Theme Ad Hoc Widgets Tutorial Steps
1 ) Install and activate Suffusion Shortcode plugin. Then check to make sure the plugin is activated. Go to Appearance -> Suffusion Shortcodes to view the plugin. You will notice it has some configuration and 15 shortcodes that you can use with Suffusion. See image below.
Note: There are other settings that you can configure for this plugin. I will add another tutorial soon with more instructions.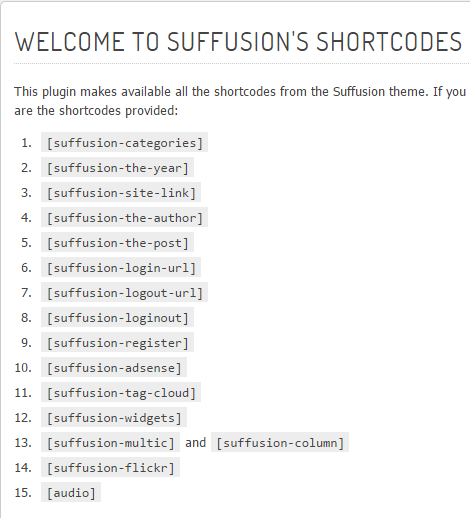 2 ) The following image allows you to configure the the Ad Hoc Widget 1. For this tutorial I selected (Three) Columns to display in the widget.
3 ) Go to to Appearance -> Widgets to add the widgets you wish to show in the ad hoc widget 1. I added the following widgets Recent Posts, Recent Comments and Text. See image below.
Information: The illustration below comes from WordPress 4.1. If you are running an older version of WordPress adding widgets will be slightly different. But the end result is still the same.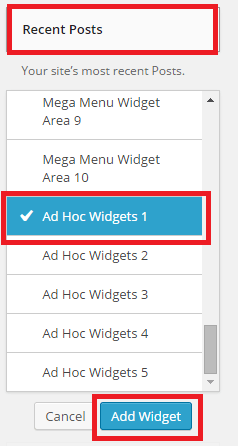 4 ) Now that you have completed the settings you need to add the shortcode to your Page or Post.
Shortcode Added
[ suffusion-widgets id='1′ ]

 

= Shortcode must be added without the spaces next to the brackets. I added the space so it would not function.
5 ) The following image shows you the final results. You can see 3 widgets inside the ad hoc widget 1.
I add the following widgets just for testing.
Recent Posts
Recent Comments
Text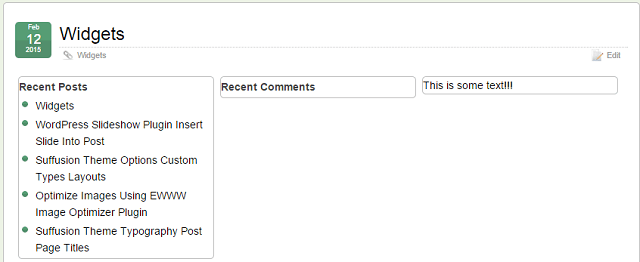 There are many benefits using the ad hoc widget. I am sure you will find some very good useful for it.
Click on the following URL Suffusion Theme Tutorials to learn more about Suffusion.
If you have any questions please let me know. I will be updating this from time to time. So keep coming back for the latest post.
Enjoy
Other links you might want to read: