Suffusion Theme Tutorials
Suffusion Theme Tutorials post provides a list of tutorials I have created for everyone to read and learn from. This list will grow in time.
Important Note: You must install the following plugin Disable Gutenberg to avoid issues with the Widget Block Editor in WordPress 5.8 and above. You can also use the following solution disable-widget-block-editor-in-wordpress-5-8. The following link https://wordpress.org/documentation/article/block-based-widgets-editor/ has more information about the new Widget Block Editor.
Last Updated: August 30, 2023
Latest News: Updated the documentation.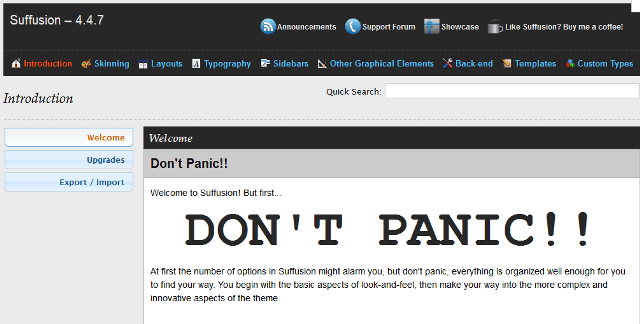 Note: Suffusion is no longer available in WordPress repository. You can read more about it from the following URL did not meet the requirements. Because of this Sayontan decided to release the raw code for version 4.4.9 and a small updated version 4.5.0. To learn more please check the following URL Legacy Suffusion Version Availability.
Suffusion Theme Tutorials
The good news is Suffusion is currently been supported by the following developers. I have added their names and a link to their website. This is so you know who they are and perhaps you might like to drop them a line.
Suffusion And Support Staff
Latest version Suffusion 4.5.7. =

Note:

This version updates many files. It changed "continue" statement in several php files: featured-posts.php, functions.php, suffusion-css-helper.php, template-sitemap.php, admin\theme-options-renderer.php, custom\navigation-menu.php, functions\filters.php, functions\template.php, all files from layouts\ directory,
post-formats\content-gallery.php, widgets\suffusion-featured-posts.php, widgets\suffusion-subscription.ile.
I fixed some minor issues and compiled a new test version in my site Suffusion 4.5.8 = This version fixes the following issues:

1.Theme Check: Escape URLs used in attributes fixed. =

Note:

This was fixed by https://github.com/marcissimus.
2.File name = Theme-options-layouts.php = removed the link in line 809 "desc" => "Don't allow pinch and zoom on touch devices. Selecting this will fix a bug on mobile Safari.", "This link was broken".
3.File name = suffusion-options-page.php = changed the support link to github in line 100 and added target="_blank" and also to the other links as well.
4.Fixed other required entries in the style.css file.
5.Fixed deprecated notices in line 58 /functions/filters.php and line 27 /library/suffusion-walkers.php

All issues and questions should be addressed in the github.
Since version 4.4.8 all inbuilt shortcodes have been removed. If you are going to use or are currently using Suffusion inbuilt shortcodes, you need to install the following plugin Suffusion Shortcodes Plugin.
I am using Suffusion with WordPress version 6.3.1 and it works. I have also tested Suffusion with WordPress 6.4 Alpha and it also works. However not all features have been thoroughly tested with the latest version Suffusion 6.3.1 and 6.4 Alpha.
======================================
Remember come back for more great tutorial's.
Enjoy.