WordPress The SEO Framework Plugin post shows you the simplicity, the layout, the design, the plugin structure and more.
Last Updated: February 21, 2023
Latest News: Updated the changelog and documentation.
The SEO Framework changelog 4.2.8
Click the following URL detailed changelog to read the complete changelog list.
===============================
In this post you will learn more about the layout, structure, design and the simplicity of The SEO Framework plugin. The plugin is simple and easy to use and set up. It is a great and easy to use plugin which helps you manage the SEO of your website or blog.
You know there are many SEO plugins in the WordPress repository and most do a great job and this is a newly addition in the repository. This plugin is also receiving great reviews and many recommendations. Another very important factor about this plugin is the outstanding support you receive from the developer Sybre Waaijer. Not only does the developer provide great support but he also provides extensive information when answering questions and helping troubleshoot issues in the forum. His SEO knowledge is second to none and he is dedicated to making this plugin one of the best.
With the above mentioned one could say that it is safe and a great investment for your website by installing this SEO plugin. I am sure you will agree with my comments above.
The developer has gone even a step further and started adding some SEO tips. Most tips are mentioned every-time there is a new release. You might like to read them, please click on the following URL The SEO Framework SEO Tips.
Note: The following tutorials are based on version 4.0.4. 
What you need
WordPress The SEO Framework Plugin
The following image SEO Settings shows you the plugins admin panel. You can see how simple it is to set up and manage. Each menu title describes the settings you will manage for the site.
SEO Settings Menu Tutorial List
Click on Save Settings button when you complete your settings.
Click on Reset Settings button if you wish to reset the settings back to the default settings.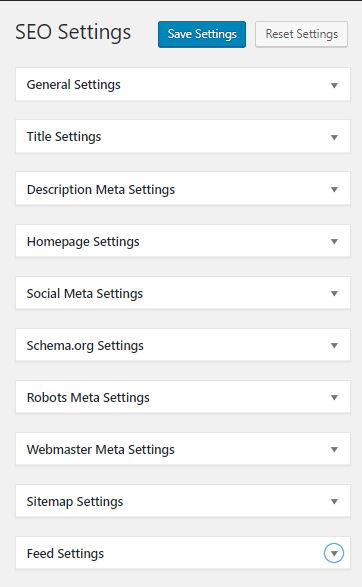 Note: Click on the arrow pointing down next to each feature to expand the menu. You can also expand any of the menus by placing your mouse anywhere in the settings you wish to set up and clicking on your left mouse button.
The structure and settings above are very simple to manage and organize according to your needs. The developers keep adding more features and functionality to improve the plugin. More addons are added from time to time.
I will be adding more information soon. So keep coming back for the latest. If you have any questions please let me know.
Enjoy.