WP ClassiPress Theme Selling Classified Ads talks about a very powerful ads selling theme. You will also find a list of tutorials to help you get started.
Last Updated: July 28, 2021
Latest News: Updated the documentation.
ClassiPress theme is a very powerful ads theme for WordPress. It has many features that can help you get started with online selling of classified ads.
This page has a list of tutorials and information about ClassiPress theme. These tutorials will help you get started, manage and customize the theme for your site. They are written for beginners and advance users.
Note: The information and list of tutorials in this page will slowly grow.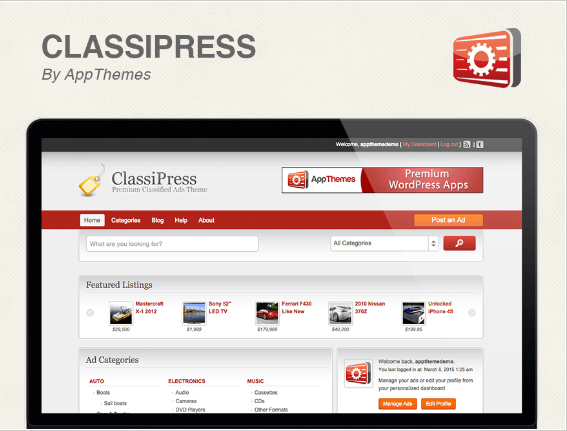 WordPress ClassiPress Theme Online Selling Classified Ads
ClassiPress theme changelog Version 4.2.6 (This version was released in July 26, 2021). To learn more about ClassiPress version history click on the following URL ClassiPress version history.
Fixes:
Fixed compatibility issue with "Advanced Post Cache" plugin that causes 0 total transaction issue.
Sorting ads by expire date on admin screen.
Account stats widget is missing Trash status localization.
Price decimal values/places issue.
Fixed issue with Reset Password
Fixed Deprecated: Required parameter $taxonomy follows optional parameter $id
Category selection on form assignment is not persistent.
Show category image placeholder and thumbnail image placeholders for listings on dashboard and sidebar widgets.
Show category image placeholder and thumbnail image placeholders for listings on dashboard and sidebar widgets.
Fixed issue with registering widgets in block-based editors (WordPress 5.8 compatibility issue).
Fixed fatal error when logging PayPal subscription attempt error in APP_PayPal_Bridge.
Fixed PHP8 incompatibility issues
Fixed Date localizing issue on user dashboard
Fixed minor typos
Pass all widget titles through the filter 'widget_title' to ensure compatibility with WPML. Added custom filter 'cp_widget_description' for the same purpose.
Changes:
Disable contact owner button when ad is marked as sold.
Make Critic rating (stars) visible in the search results and categories.
Show banner image in the listing gallery.
Better Dashboard layout on mobile.
Small CSS optimization
Note: Version 4.x is a mayor update. So please make sure you check the following URL classipress-4-x-documentation-index. There is also a link showing you how to upgrade from version 3.x.
==================================
What You Need
ClassiPress AppThemes (

Note:

This is an affiliated link = I get a small commission if you make a purchase.)
ClassiPress Theme Tutorials:
If you have any questions please send me an email via my contact form.
Enjoy.