WP ClassiPress Theme Selling Classified Ads talks about a very powerful ads selling theme. You will also find a list of tutorials to help you get started.
Last Updated: April 14, 2019
Latest News: I added another tutorial to the list.
ClassiPress theme is a very powerful ads theme for WordPress. It has many features that can help you get started with online selling of classified ads.
This page has a list of tutorials and information about ClassiPress theme. These tutorials will help you get started, manage and customize the theme for your site. They are written for beginners and advance users.
Note: The information and list of tutorials in this page will slowly grow.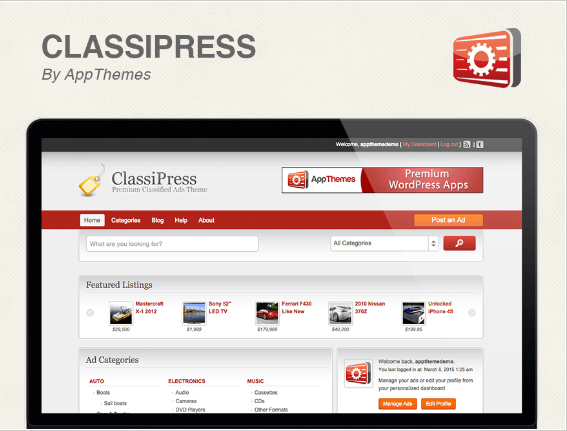 WordPress ClassiPress Theme Online Selling Classified Ads
ClassiPress theme changelog Version 4.1.4 (This version was released in April 10, 2019). To learn more about classipress version history click on the following URL classipress version history.
Fixes:
Issue with searching by tags and custom fields.
Removed Site Logo appears after update.
Order by Price not working when there is no price slider.
Fixed ClassiPress and Toolset Plugin Compatibility.
Gravatar option shows in user profile edit although its disabled in backend.
Password Reset form throws a notice on PHP 7.2.
Maps don't work with Cyrillic.
Added missing appthemes_before_loop() hook in archive templates.
Fixed translation in the ClassiPress Addons browser
Note: Version 4.x is a mayor update. So please make sure you check the following URL classipress-4-x-documentation-index. There is also a link showing you how to upgrade from version 3.x.
==================================
What You Need
ClassiPress AppThemes (

Note:

This is an affiliated link = I get a small commission if you make a purchase.)
ClassiPress Theme Tutorials:
If you have any questions please send me an email via my contact form.
Enjoy.