WP ClassiPress Theme Selling Classified Ads talks about a very powerful ads selling theme. You will also find a list of tutorials to help you get started.
Last Updated: March 31, 2021
Latest News: Updated the documentation.
ClassiPress theme is a very powerful ads theme for WordPress. It has many features that can help you get started with online selling of classified ads.
This page has a list of tutorials and information about ClassiPress theme. These tutorials will help you get started, manage and customize the theme for your site. They are written for beginners and advance users.
Note: The information and list of tutorials in this page will slowly grow.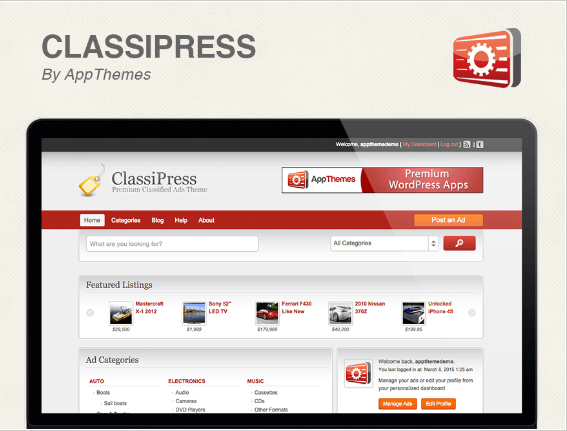 WordPress ClassiPress Theme Online Selling Classified Ads
ClassiPress theme changelog Version 4.2.5 (This version was released in January 13, 2021). To learn more about ClassiPress version history click on the following URL ClassiPress version history.
Fixes:
Prevented Image Upload pop up multiple times after deleting image.
Display attachments only with image mime type in the Image Upload form.
Fixed scroll to TinyMCE editor on form validation error.
Additional Info widget – table display issue.
The link under the map in the listings opens a map but is not showing the pin.
Fixed profile form validation.
Added "Nothing Found" message for empty results on the listing archive and all taxonomies templates. Removed search box from the content-none.php template to avoid too many search boxes on the page.
Fixed 100% expanding home page widgets with a "row" class inside.
Changes:
Display featured badges on a front page.
Preload FontAwesome for better performance.
Show "Report this Ad" all the time. Redirect to login page if a logged-in user required.
Added filter 'cp_maybe_geocode_address' and action 'cp_geocode_lisitng_address'.
Remove IP address from the Contact ad owner email body.
Note: Version 4.x is a mayor update. So please make sure you check the following URL classipress-4-x-documentation-index. There is also a link showing you how to upgrade from version 3.x.
==================================
What You Need
ClassiPress AppThemes (

Note:

This is an affiliated link = I get a small commission if you make a purchase.)
ClassiPress Theme Tutorials:
If you have any questions please send me an email via my contact form.
Enjoy.