WordPress Business Directory Plugin Setup shows you how to set up a directory structure on your website and help you generate revenue.
Last Updated: June 24, 2022
Latest News: Updated the changelog details.
This post shows you how one can create a powerful Business Directory and help you generate more income on your website. In return you are also promoting the businesses that wish to sing up to your directory listings for a fee. You can also create free directory listings for any type of community for example religious, farming, gardening, music, web development, animal lovers and more.
Business Directory plugin version 6.2.4 Changelog.
Fix: Redirect to the login page from the new listing form when logging in is required.
Fix: The listings weren't showing alphabetically in new installations, if the sorting settings hadn't been updated.
What You Need:
WordPress Business Directory Plugin Tutorials
Install and Activate
WordPress Business Directory Plugin Setup
Step 1 ) Install and activate the plugin. When you first activate the plugin you will see the following message. See image below.
This message lets you know that certain structure needs to be set up before you begin. Click on Create required pages for me button. I highly recommend you carry this to avoid any complications.

Step 2 ) The following image Business Directory displays the menu structure the plugin creates for you. Once again the plugin is reminding you that you have featured listings but you have payments turned off. Click on Manage Options – Payment link to set up this option.
Pages Created:
Submit A Listing
View Listings
Directory
Search Listings
Default General category created

Step 3 ) The following image Directory allows you to set up and configure the following.
Directory Menu:
Directory
Add New Listing
Directory Categories
Directory Tags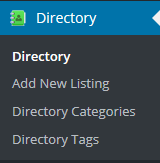 Step 4 ) The following image Directory Admin allows you to set up and configure the following.
Directory Admin Menu:
Main Menu
Add New Listing
Manage Options
Manage Fee
Manage Form Fields
Listings
CSV Import
CSV Export
Debug
Uninstall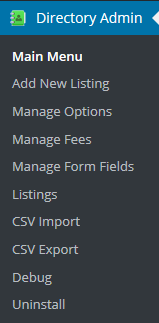 Step 5 ) The first action you need to take is to set up the plugin. Click on Main Menu as illustrated in the previous image above. Once you have clicked you will see the following image Business Directory Admin.
You have three main buttons to click on and set up.
Admin Set Up:
Configure/Manage Options
Setup/Manage Form Fields
Setup/Mange Fees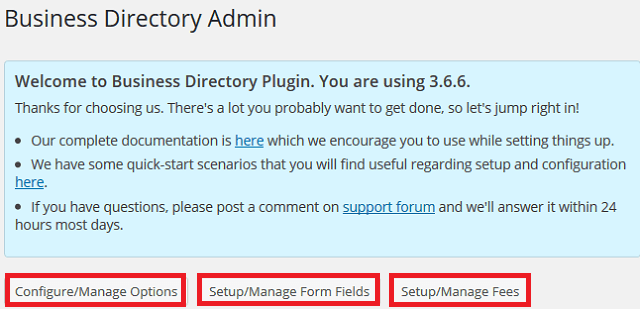 Click on the following URL Manage Options General to continue with the set up.
I hope this tutorial helps you.
If you have any questions please let me know. I will be updating this post from time to time.
Enjoy