Last Updated: July 23, 2015
WordPress Business Directory Manage Options Listings shows you how to set up General Settings, Listings Renewal, Post/Category Settings and more.
Latest News: I have added another link to the menu.
This post shows you the many different settings found under the Listings tab. I suggest that you spend some time understanding what each option does when enabled.
WordPress Business Directory Plugin Tutorials
Manage Options Listings
WordPress Business Directory Manage Options Listings Steps
Step 1 ) Go to Directory Admin -> Manage Options to start setting up the plugin. See image below.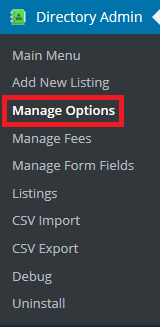 Step 2 ) Go to Directory Admin -> Manage Options -> Listings to start setting the following options.

General Settings:
Listings per page
Listing duration for no-fee sites (in days)
Include listing contact form on listing pages?
Require login for using the contact form?
Maximum number of contact form submits per day
Include comment form on listing pages?
Show listings under categories on main page?
Status of listings upon uninstalling plugin
Status of deleted listings
Listing Renewal:
Turn on listing renewal option?
Allow recurring renewal payments?
Use recurring payments as the default payment method?
Listing renewal e-mail threshold (in days)
Send expiration notices including a cancel links to auto-renewed listings?
Remind listing owners of expired listings (past due)?
Listing renewal reminder e-mail threshold (in days)
Post/Category Settings:
Default new post status
Edit post status
Order categories list by
Sort order for categories
Show category post count?
Hide empty categories?
Show only parent categories in category list?
Listings Sorting:
Order directory listings by
Sort directory listings by
Enable sort bar?
Featured (Sticky) listing settings:
Offer sticky listings?
Offer upgrades during submit process?
Sticky listing price
Sticky listing page description text
Click on the following URL Manage Options Email to continue with the set up.
I hope this tutorial helps you.
If you have any questions please let me know. I will be updating this post from time to time.
Enjoy