Backup Restore WordPress Using UpdraftPlus Backups plugin tutorial teaches you how to backup WordPress using UpdraftPlus Backups plugin.
Last Updated: October 13, 2021
Latest News: Updated the menu.


UpdraftPlus is a very simple plugin to set up and manage your backups. It has many advanced options and many premium addons to increase the functionality of the plugin.
Everyone knows how important it is to backup your WordPress site.  You have spent countless hours configuring, updating, customizing and much more your website. Some of you might get your site compromised by someone hacking into it. Other issues might be related to an update going wrong, your server crashes or your hosting company goes bust.
Creating regular backups will make sure you can recover your site from any of the above incidents. You also need to test your backups regularly to make sure they do work. There is nothing more frustrating than trying to restore  your site and the backup does not work.
That is when UpdraftPlus comes to the rescue.
Changelog
UpdraftPlus Version 1.16.62 Changelog
FIX: Fix UpdraftCentral error when installing plugin or theme on a slow connection
TWEAK: Support wildcard (asterisk char) exclusions not just for the first/top-level directory but also for the 2nd level directories and below
TWEAK: Fix deprecation warning on UpdraftCentral's comment settings
TWEAK: Algorithm improvement with small tables with individually large rows not triggering the existing over-sized rows algorithm, to reduce fetch size quicker
TWEAK: Implement the newly abstracted host plugin usage/process within the UpdraftCentral client code
TWEAK: Improve backtrace logging
TWEAK: Add admin and log warning messages regarding the planned shutdown of Microsoft Azure and OneDrive Germany
TWEAK: Output UpdraftVault quota recount link if needed
TWEAK: Introduce constant: UPDRAFTPLUS_LOG_BACKUP_SELECTS: Defining this to true will cause the SQL SELECT commands used when fetching data for a database table backup to be logged in the UpdraftPlus backup log
TWEAK: Don't change SQL modes if a null value is returned
TWEAK: Existing backups paging logic to avoid a confusing rescan user experience
What you need:
UpdraftPlus Backups Restore Tutorials:
Backup And Restore WordPress Using UpdraftPlus Backups
Backup Restore WordPress Using UpdraftPlus Backups
Step 1 ) Install the plugin like you would normally do. Go to Settings -> UpdraftPlus Backups as illustrated in the image below to start creating site backups.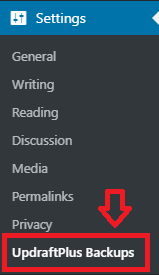 Step 2 ) The following image displays the admin menu tabs. The following is a list of features you can configure before you start backing up your site.
UpdraftPlus Admin Menu:
Backup / Restore
Migrate / Clone
Settings
Advanced Tools
Premium / Extensions
Next scheduled backups:
Files:
Database:
Click on Backup Now when you are ready to create a backup.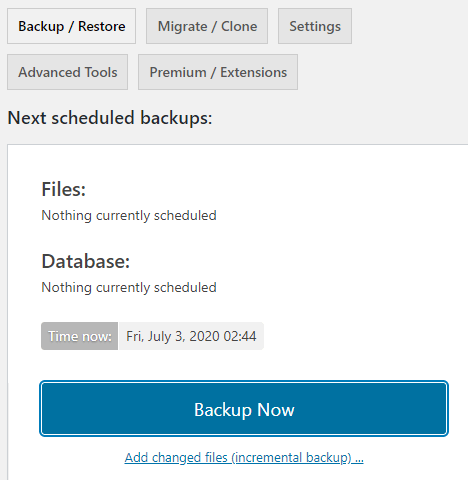 Take a new backup options
Step 3 ) To create a backup, click on Backup Now button from above. It gives you the following options.
Take a new backup options:
Include your database in the backup
Include your files in the backup

Plugins
Themes
Uploads
Any other directories found inside wp-content

Backup won't be sent to any remote storage
Only allow this backup to be deleted manually (i.e keep it even if retention limits a hit).
Click on Backup Now button when you are ready to begin your backup.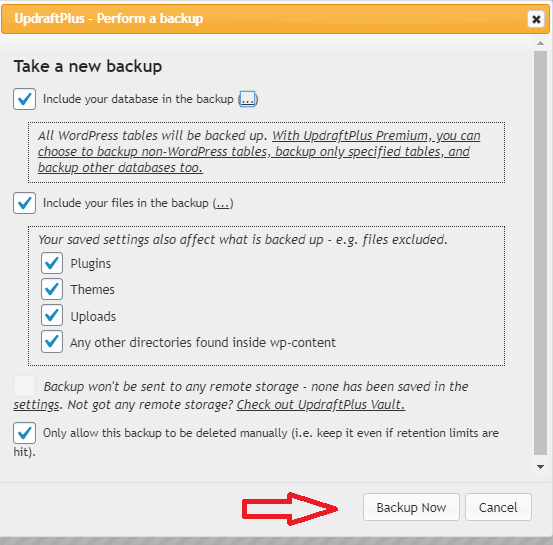 Step 4 ) The following image shows you the backup in progress.

Existing backups
Step 3 ) Once the backup is completed you should see the backup listed as illustrated in the image below. You can then choose to carry out the following options.
Existing backups:
More tasks:

Upload backup files
Rescan local folder for new backup sets
Rescan remote storage

Backup date
Backup data (click to download)

Database
Plugins
Themes
Uploads
Others

Actions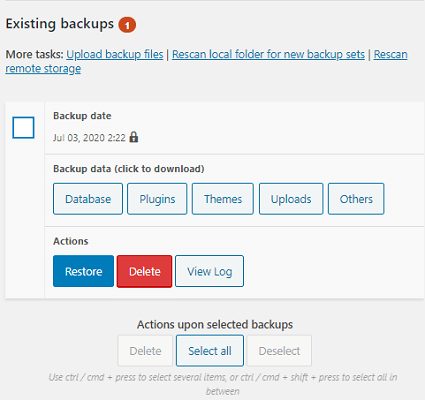 Click on the following URL Restore Existing Backups to learn more.
I will be updating this tutorial from time to time so keep coming back for the latest. If you have any questions please let me know.
Enjoy.
If you want to test your website locally, read the following instructions.
In the following tutorials you will learn how to setup WordPress locally using xampp and install your backup locally to run some testing.
First read the following tutorial Install WordPress locally using Xampp to set up your WordPress locally
Second read the following tutorial Test Your WordPress Site Locally which will show you how to restore BackWPup backup locally for testing and editing.