WordPress Simple Membership Join Us Page shows you how to manage and edit the page adding registration forms and more.
Last Updated: October 4, 2021
Latest News: Updated the documentation.
The Join Us page is an important page to set up in your membership site. This page is created by SMP when you first install the plugin. In this page you can share with your members what to expect when becoming a member in your site. Whether they sign up for a free membership account or a premium membership account. You can include any information you want for your future members.
This post provides in simple steps how to edit and configure the Join Us page.
What You Need:
WordPress Simple Membership Join Us Page Steps
Note: Before you begin setting up the page, remember that all the pages are created automatically when you first install the plugin. If for some unknown reason the Join Us page is missing you can click on Re-create the Required Pages button under Tools tab. Alternative  you can create the page yourself and enter the correct URL path under General Settings tab. 
Step 1 ) Go to WP Membership -> Settings -> General Settings -> Page Settings to view the URLs you will be working with in this documentation.
Pages Settings URLs:
Registration page URL = the full URL path http://localhost/wordpress/membership-join/membership-registration/
Join Us Page URL = the full URL path http://localhost/wordpress/membership-join/
Note: Your URLs will be different.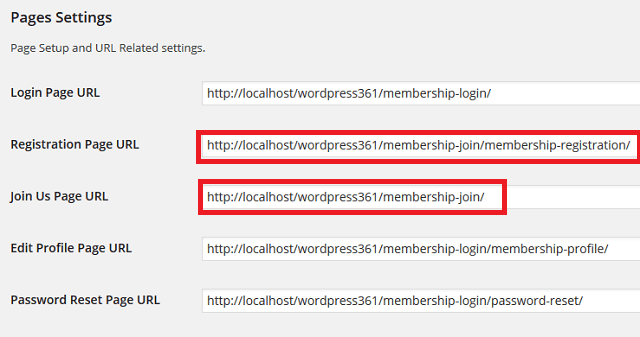 Step 2 ) Go to Pages in your WordPress admin panel and locate Join Us page. Open up the page for editing. You will see something similar to what is illustrated in the following image.
Here you can add your own text, information including links to other pages, forms and images. You can add as much information as you want.
Note: In the image above the URL for Join Us Page URL ends in /membership-join/membership-registration/. This is the page that is generated when the plugin is installed and activated for the first time. You can customize and add your own URL as long as you add the correct shortcode and you add the full URL path as illustrated in the image above. However if you don't enter the correct URL path, the membership plugin will not function correctly.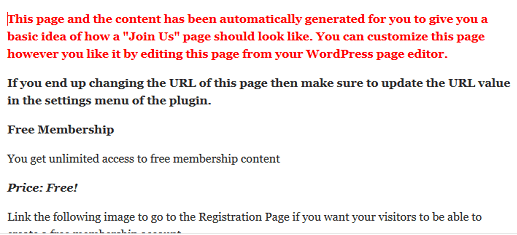 Step 3 )  The following image shows you the Join Us image. This image is automatically added when you install the plugin. You can use this image to link to your Registration Page or delete the image and add your own image or a simple link. It is up to you.
Steps to take to link the image to the Registration page:
Select the image then click on the Insert/edit link.
Make sure you made a note of the Registration page as pointed out in Step 1 ) above.
Follow the onscreen instructions to add the link in the field Paste URL or type to search.
Now your image will be linked to the Registration page, that is how simple it is.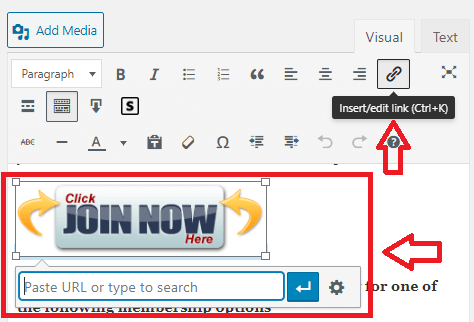 Adding Membership Levels
Step 4 ) Now you can add any other content after the image. This can include premium membership level buttons.
Note: To learn more about membership levels click on the following URL WordPress Simple Membership Levels Settings.
For example you might have a Gold Membership Level and you wish to include it here. You could add something like this.
We also offer gold membership level to our paying customers which gives you access to the high class tutorials about selling online. If you are serious about making money online then I encourage you to sign up.
Don't miss out on this special offer we are advertising only this month of July.
Gold Membership Level
[ swpm_payment_button id=312 ]
Step 4-a ) The following image illustrates how the above information would look on the site.

That is how easy it is to edit the Join Us page.
If you have any questions please let me know.
Enjoy.
Simple Membership Plugin Tutorial List: