Restore WordPress Using BackWPup tutorial will guide you and help you to restore your WordPress backup to the same server using BackWPup plugin.
Last Updated: April 7, 2019
Latest News: I fixed a broken link.
For this tutorial, I created a backup. After the back up was created I deleted all the website files on my server. I did this to test if the backup works or not. I was able to restore my website without any problems.
Note: Even though the backup process worked for me, take note of the different server settings. I recommend that you always carry out tests on a testing environment in your server. It is always better to be safe than sorry.
BackWPup Backup Plugin Tutorials:
Restore WordPress
Restore WordPress Using BackWPup Steps
How to Restore a Full Backup to the same Server
Step 1 ) Important: This process requires two options to achieve the full restoration of your website.
Option 1: Upload all files and Database
You need to upload the content of the zip file you downloaded on step 7 ) mentioned in the following URL Add A New Job File Settings to the server. If you kept the file on the server then go to step 2 ) below.
Unzip all the files locally on your computer and upload them using ftp software like FileZilla, which is FREE. All the files must be uploaded to the same path as your website unless you choose to upload the files to a different folder and then copy them to the website path. The path will look similar as illustrated on the following examples below:
Examples:
/home/user/public_html
/home/user/www
/public_html/
(depending on your host).
Step 2 ) Select the file on the server to extract. See image below:
Remember: You might have more than one backup copy on your server. Make sure you select the correct copy to restore.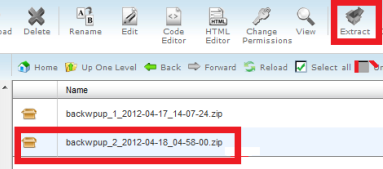 Step 3 ) Extract the files to the correct path of your website. The files will override the same files it finds and it will ask you first if you want to override those files. See image below:
Example: My path is /plublic_html/myurl/wptest/ this is a sub domain.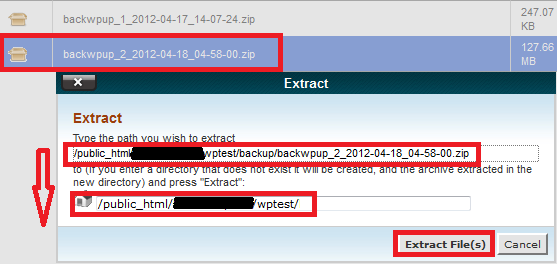 Option 2: Restore the Database
Once you have restored all your files you need to restore your Database. Locate your database which was uploaded in Step 1 above.
Important: Make sure the database is Unzipped.
Step 4 ) To restore your database you have to upload the database backup file to the server and  manually restore the database using phpMyAdmin or what ever tool you use in your server.
You can follow my tutorial Test Your WordPress Site Locally. Even though the tutorial is written for a local server install, in the section about phpMyAdmin the procedure is the same as in a live server. If you don't like performing this process because you either don't have access to the server, limited permission or for other reasons. I suggest that you install the following plugin WP-DBManager from Lester Chan. This plugin helps you create copies of your database and you can also optimize your database.
I have tested Lester Chan's plugin in some of my websites running WordPress 4.2.2 and it works without a problem.
Warning!!!: Always have a current database backup just in case something goes wrong.
Voila the site was up and running in a few minutes. I did some test on the site by login into the admin page and had a look around and yes everything was working well. Very simple and quick. The BackWPup plugin works well and I highly recommend it.
Moving WordPress to a different directory
Please remember the information in this tutorial relates to backing up and restoring to the same server.
I did not add any new information here because WordPress has a great tutorial on moving your WordPress to another directory. Click on the following link moving wordpress to it's own directory.
After you have followed the steps pointed out in the link above, you need to carry out a few more steps. These steps are very important because it can affect your SEO and performance.
Check your website in the new location. Log into your admin panel and check to see if you have any issues, make sure that all your links are 100% correct. Check your theme and plugins.
The first plugin you will install Velvet Blues Update URLs, this plugin will help you update all your URL's and content links in your website.
Install Quick Page Post redirect plugin unless you already have it, to start redirecting any old URL's to the new URL address. Even though the plugin above will do about 95% or more of y0ur work, you will still miss some links and URL's.
Install All In One WP Security & Firewall unless you already have it. Apart from being a great security plugin, it has a nice log checker. Check regularly the log files, it will tell you of any 404 errors page not found. Some of these errors will point out any URL address that needs to be updated "redirected". It also has an option to create database backups.
Troubleshooting Steps
Gmail does not allow emails with .bat files in them to be sent or received. BackWPup has some .bat files in its folders. A solution is to tell BackWPup to exclude itself from the archive. Daniel is planning on removing the batch files on his next release.
Run and test your website locally:
In the following tutorials you will learn how to setup WordPress locally using XAMPP and install your backup locally to run some testing.
First read the following tutorial Install WordPress locally using XAMPP to set up your WordPress locally
Second read the following tutorial Test Your WordPress Site Locally which will show you how to restore BackWPup backup locally for testing and editing.

I will be updating this post from time to time. So keep coming back for more. If you have any questions please send me an e-mail or leave a comment.
Enjoy.