Backup WordPress Using XCloner plugin tutorial will guide you and help you to configure the plugin before you create a WordPress backup.
Last Updated: September 14, 2023
Latest News: Updated the documentation.

The update version 4.0.1 is a major overhaul of the plugin. This update is a huge improvement over the old version 3.1.5. Make sure you carry out some test on a testing platform before you update the plugin to the this version. If you find a bug or you run into an issue report this to the forum. This will help the developer update and patch the problem.
Please read the latest release information below:
Version 4.7.0 changelog
Fix typo on Google drive integration #288
Review authentication on Google drive integration to drop unsupported oob authentication #264
Update "tested up to" version
Important: Please remember to review the new version and report any issues to the developer. 
What you need:
Setup And Configure XCloner Plugin
The following image Site Backup shows you the admin menu. The admin menu allows you to set up and configure the following settings.
Site Backup Admin Menu
Schedule & Profiles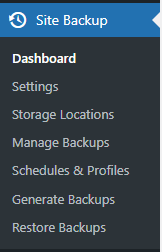 Click on the following link Admin Dashboard to continue with this tutorial.
If you have any questions please let me know.
Enjoy.