WordPress Clipper Coupon Theme talks about a popular and powerful coupon theme. You'll be selling coupons online and much more in no time.
Last Updated: March 13, 2019
Latest Update: I added another link to the list below.
Clipper helps you setup your own mega-savings coupon site easily with this great theme. This allows you to monetize your traffic. The theme was built for ease of use in mind and to simplify the integration with WordPress. This allows you to concentrate on selling coupons within minutes and much more.
There is a very large active community you can trust. What this means is that Clipper is here to stay.
Note: The information and list of tutorials in this page will slowly grow.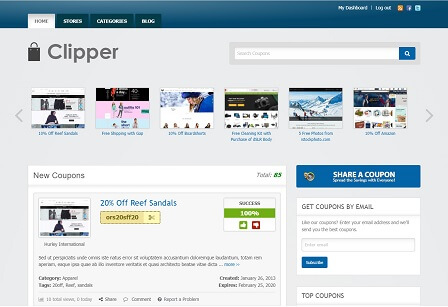 WordPress Clipper Coupon Theme
Clipper theme changelog Version 2.0.2 (Released on February 1, 2019). To learn more about Clipper theme version history click the following URL clipper version history.
Fixes
Fixed translation in the MarketPlace Addons module.
Fixed process.php template, added loop tags.
H1 Tag Missing in Homepage. Minor changes in the site branding section
Taxonomy RSS link issue.
No image alt tag.
Store image proportion.
Use require_once statement for loading WordPress files.
Fixed top bar menu.
PHP warnings in Store Image field.
Uploaded store image generating duplicate image
Changes
Added example child theme.
Allow to hide empty Stores in Stores page (via 'clpr_terms_list_args' filter).
Enable plans settings. Allows removing the Select gateway step in submitting coupons.
Updated Framework:
Improved Media Manager uploading for user and term meta types.
Added template file for the appthemes_output_attachment() function
Enable multiple choice on media manager frame
Fixed issue of Media Manager on iOS devices.
Updated Core module:
Delete pending recurring orders when listing get status DELETED or TRASH or permanently deleted
Don't collapse lines in textarea fields on Details view
Sort taxonomy dropdown fields by term names
Updated Custom Forms module:
Don't convert pluses to spaces in field descriptions and placeholders.
Updated Payments module:
Make 'Order Log' string translatable
Make all order log messages translatable
Changed some help texts in settings
==================================
What You Need
Clipper AppThemes (

Note:

 This is an affiliated link. I get a small commission if you purchase the theme.)
Clipper Theme Tutorials:
More coming soon
If you have any questions please send me an email via my contact form.
Enjoy.