WordPress Clipper Coupon Theme talks about a popular and powerful coupon theme. You'll be selling coupons online and much more in no time.
Last Updated: September 28, 2020
Latest Update: Updated the changelog.
Clipper helps you setup your own mega-savings coupon site easily with this great theme. This allows you to monetize your traffic. The theme was built for ease of use in mind and to simplify the integration with WordPress. This allows you to concentrate on selling coupons within minutes and much more.
There is a very large active community you can trust. What this means is that Clipper is here to stay.
Note: The information and list of tutorials in this page will slowly grow.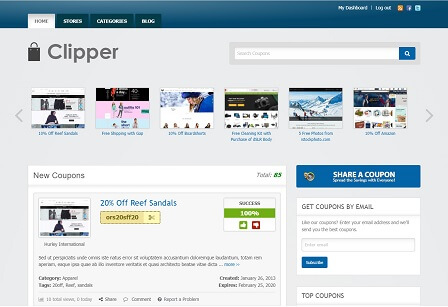 WordPress Clipper Coupon Theme
Clipper theme changelog Version 2.0.7 (Released on August 17, 2020). To learn more about Clipper theme version history click the following URL clipper version history.
Fixes
Fixed WordPress 5.5 incompatibility issues.
Fixed Embedding media via Media Manager.
Don't limit attachments for admins in Media Manager. Don't limit attachments for a current post in Media Manager, allow using filter "Uploaded to this post" instead.
Fixed issue with deprecated contextual_help filter called in scb framework.
Fixed issue with orphaned subcategories in the function appthemes_categories_list()
Fixed appthemes_create_child_list(): don't lost $wrappers in sub-sub categories.
Changes
Added better StarStruck plugin integration.
Allow to pass a callback function to the appthemes_categories_list().
Allow using optional HTML wrappers instead of hard-coded in appthemes_categories_list() and appthemes_categories_list().
==================================
What You Need
Clipper AppThemes (

Note:

 This is an affiliated link. I get a small commission if you purchase the theme.)
Clipper Theme Tutorials:
If you have any questions please send me an email via my contact form.
Enjoy.