Last Updated: November 29, 2015
Gimp Image Editor Tools Select tutorial will Select menu tools. For example invert, float, by color and many more.
Latest News: I have added another link to the menu.
There are many options in Gimp when it comes to selecting different areas of images and layers. I will be covering this and more to help you understand better how to manage Gimp.
Gimp Image Editor Tutorials:

Select
Gimp Image Editor Tools Select Steps
Step 1 ) Click on Select to work with the following tools:
Select All
None
Invert
Float
By Color
From Path
Selection Editor
Feather
Sharpen
Shrink
Grow
Border
Distort
Rounded Rectangle
Toggle Quick Mask
Save to Channel
To Path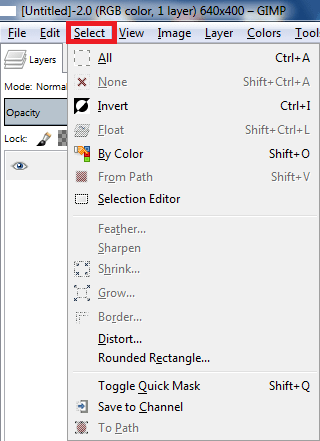 Click on the following link View to learn more about the menu.
I will update this tutorial from time to time. So keep coming back for the latest. If you have any questions please let me know.
Enjoy
Check out More Gimp Tutorials.