WordPress Simple Membership MailChimp Integration Setup shows you how to integrate MailChimp Add-on with the plugin.
Last Updated: May 29, 2020
Latest News: Updated the documentation.
In this tutorial you will learn how to integrate WordPress Simple Membership plugin with MailChimp. You will learn how to automatically signup members to MailChimp list and or interest group names. As the developers update the addon, I will also make changes to this small tutorial.
Addon changelog 1.9.2
Membership level upgrade will trigger that member to be added to the new list (of the new level).
What You Need:
WordPress Simple Membership MailChimp Integration Setup
Step 1 ) Download and install Simple Membership MailChimp Integration addon.
Note: Click on the following URL How To Install WordPress Plugins to learn how to install a plugin or addon.
Step 2 ) Go to WP Membership -> MailChimp to set up the add-on. See image below.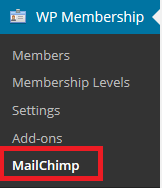 Step 3 ) The following image MailChimp Integration allows you to enable and setup the following options.
MailChimp Integration Options
MailChimp API Key:
Enable Double Opt-In
Remove Email From List When Subscription Payment is Cancelled
Click on Save button once you have completed the settings.
Important: Make sure the API Key is correct and activated in your MailChimp account.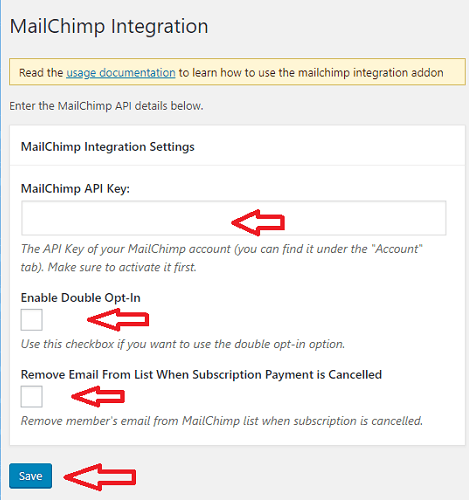 Step 4 ) The following image Edit membership level allows you to set up the following options.
Membership Level Name (required).
Default WordPress Role (required).
Access Duration (required) (For this test I selected No Expiry (Access for this level will not espire until cancelled).
MailChimp List Name: Family Blog. Make sure you select an active list or interest group name from your MailChimp account. (

Note:

Your list name will be different to the one used in this example).
Once you finished click on Edit Membership Level button.
Membership Level ID
I added the following step because I am using the Free Level membership level in this example.
Step 5 ) The following image Membership level shows you the membership ID 2. (Remember your ID might be a different number)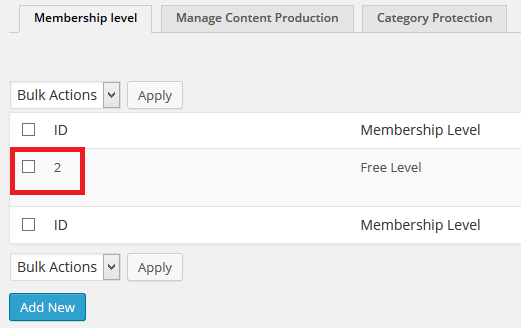 Step 6 ) The following image General Settings allows you to set up the following options.
Enable Free Membership Level
Free Membership Level ID I entered membership ID 2. (Remember your ID might be a different number)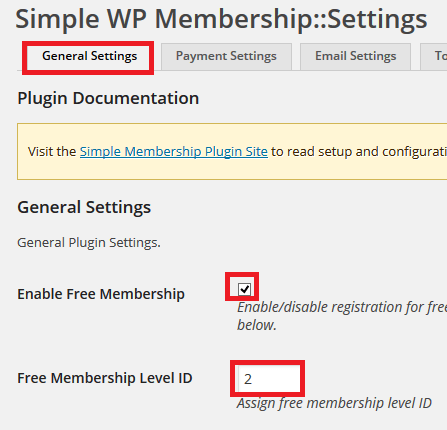 Step 7 ) The following steps will help you test to make sure the subscribers are added to the MailChimp list.
Subscribed to the Free Membership Level from your website with a non registered account.
Go to the email account from the subscriber above. See if you have received the confirmation email. If you have then click and confirm the subscription.
Go back to MailChimp and see if the subscriber has been added to the List. If the member has been added then you are successful. If not then go back to the top and make sure you followed all the steps.
FAQ
Q1 How can I assign members registering in my site to different farms?
Answer: Lets call a membership level "Farm A" and another level "Farm B" and another one "Farm C". Now, you can create three different payment buttons within our plugin (one for each of those 3 membership levels). The payment buttons all charge the same amount but having different payment buttons for the different levels will allow the plugin to identify which level a user should go to. Let's say the visitors now goes to your "Join Us" page and they see the 3 different farm options. They can pick the one they want to join and pay for that level. After the payment, they will be allowed to register (create an account) for the level they paid for. They will be added to the MailChimp list for the level accordingly (so if someone joined "Farm A" then they will get added to the MailChimp List for "Farm A"). Check the following forum post for more information.
Troubleshooting MailChimp Integration
Q1 I want my Mailchimp Integration to respond to a manual membership level change. How do I achieve this?
Solution: Mailchimp list signup doesn't work based on the account status at this stage. What you can do is use an additional level to achieve what you are after. When you are manually setting their level to "active", also change their membership level to a NEW level. You can create as many levels as you want to so you can create a new level with the same permission but when someone is in this level, you know that they have gotten the manual approval.
===============================
Remember this example is using the free level setup. You might be implementing a paid level setup. The steps shown above are the same for whatever level you decide to integrate with a MailChimp list.
Click on the following URL After Login Redirect add-on to continue.
If you have any questions please let me know.
Enjoy.
Simple Membership Plugin Tutorial List: