How To Install WordPress Plugins post will show you how to install a plugin, upload a plugin from your computer or laptop into your website and more.
Last Updated: February 19, 2018
Latest News: I have updated a link.
Plugins are very important for a website. With a plugin you can customize, improve performance, edit the menu, add new features and much more. Making sure you install the correct plugins for your website is very important. For example plugins that improve the speed like cache plugins can help your site become more popular because they load up faster and at the same time make search engines like Google happy.
It is also equally important to keep the plugins already installed up to date. This post also shows you how to carry out this task. Remember to always login regularly to your site to see if there are any updates available.
The installation process is very similar to installing a theme.
Note: These instructions apply to any plugin you install or upload to your site.
How To Install WordPress Plugins
Step 1 ) Go to Plugins -> Add New to start uploading and or installing new plugins.
Step 2 ) The following image Add Plugins shows you how to search for a plugin and or choose a plugin via a group. You can even use a custom filter to narrow down the type of plugin you are looking for. Remember WordPress repository has thousands of plugins to search for. It would be almost impossible to find the correct plugins without these options available.
Plugins Search Groups Options
Featured
Popular
Recommended
Favourites
Plugins Search Filter Options

Upload Plugin
Step 3 ) In some cases you might probably have purchased a commercial plugin or downloaded a plugin locally to your computer or laptop. In this case you will need to upload your plugin to your site. The following steps will show you how to upload a plugin to your site.
Step 3-a ) Click on Upload Plugin button as shown in the following image.

Step 3-b ) Once you have located the zip file you downloaded to your computer or laptop via the Choose File button, click on Install Now button. This will install the new plugin to your site. See the following image.
Note: I recommend in some cases to test the plugins locally or on a live testing platform first. You might like to learn how to set up Xampp locally in your computer or laptop to help you test your plugins.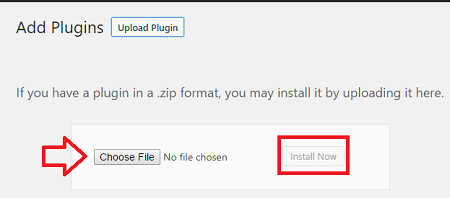 Step 4 ) The following image shows you one of WordPress popular plugins bbPress. This provides some information about the plugin and the button you need to click on to install the plugin and much more.
Plugin Information
Install Now button.
More Details about the plugin.
Ratings based on the number of reviews.
Number of installations in websites.
Last updated
Compatible with the your current WordPress version. This part is very important to pay attention too.
Note: This information will help you determine whether or not a plugin is being updated regularly, it is popular, how long has it been running, what users think about the plugin via the reviews and much more.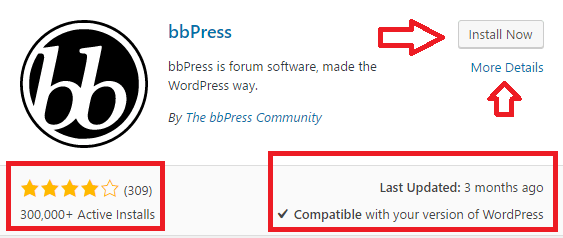 Updating Plugins
Step 5 ) The following image Dashboard shows you the latest updates available in your site. In this example you can see 2 updates available for updating. These updates can include plugins and or themes.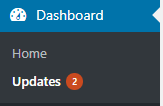 Step 5-a ) The following image shows you the number of plugins that have been updated. In this example you can see 2 plugins that have been updated. Easy WP SMTP and Shield Security. The information reveals the current version installed and the latest version available for the plugins.
Note: It is always a good idea to view the details for the latest update for a plugin and if possible to test before updating the plugin in a live site.
That is all you need to do to search, upload and add a new plugin to your site.
You might be interested to know some of the plugins I recommend for a website. Click on the following URL WordPress Plugins Compatibility.
If you have any questions please let me know.
I will be updating this tutorial from time to time so make sure you come back for the latest.
Enjoy.
WordPress Setup Tutorial List: