WordPress Simple Membership Free Level Setup shows you how to add and create a Free Membership Level sign up in your website.
Last Updated: September 22, 2018
Latest News: I have updated the information.
In this post you will learn how to create a Free Membership Level and how to troubleshoot issues you might run into. It is important that you follow these steps correctly or else you will see an error message displayed in your website.
Important: At the present Free membership signup does not send users the confirmation and password reset emails after submitting the registration. This is currently only available with the paid membership registration.
WordPress Simple Membership Free Level Setup Steps
Step 1 ) First go to WP Membership -> Membership Level and create a Free Membership Level if you have not already done so. See image below.
Click on Add Level and start creating your Free Membership level. When you create a new level you can configure the following features.
Membership Level Name (required)
Default WordPress Role (required)
Access Duration (required)
Click on Add New Membership Level button once you have completed your set up.
Once you have created the Free membership level you should see the following information displayed.
Note: Your ID number might be different.
Step 2 ) Then go to WP Membership -> Settings -> General Settings to enable and add the following settings. See image below.
Enable Free Membership
Free Membership Level ID = add here the free membership level ID you received when you created the account above in Step 1 ).
Step 3 ) The following image, shows you the Free Member membership level assigned to protect the content of the post.
Step 4 ) The following image, shows you the content of the post protected with the Free Member level set up above. What this means is that when ever visitors land in this post and are not logged in as a member belonging to the Free Member level they will not be able to view the content. They have a choice to log in via the Login link or sign up via the Join Us link.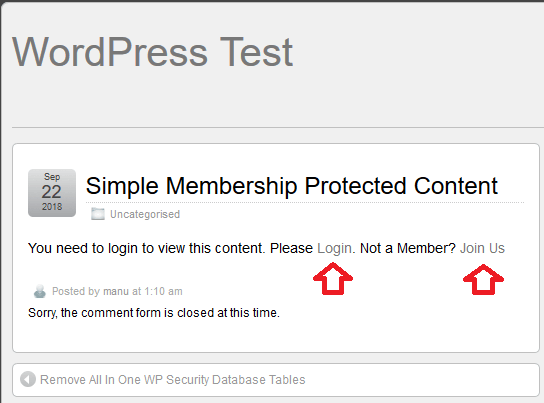 Step 5 ) Once you have completed the above, you need to add the following shortcode to the Join Us page.
[swpm_registration_form ]
Note: If your registration page has a different name, you need to add the shortcode to that page.
If everything goes well you should see the following registration form with out any error messages.
Note: Your form might have extra fields if you are using the Form Builder addon.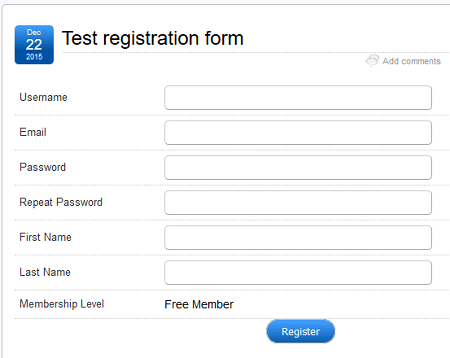 Troubleshooting the Free Membership Form
What if the form does not show or you receive an error message? If you see any of the messages below it means that your settings are not correct. Go back to the beginning and check to make sure you followed all the steps correctly.
Below is a list of some of the error or warning messages that will display on the signing up page, when signing up for a Free membership level.
Error 1 )
Registration
Free membership is disabled on this site. Please make a payment from the Join us page to pay for a premium membership.
You will receive a unique link via email after the payment. You will be able to use that link to complete the premium membership registration.
You might see the following Fatal error message, this one usually appears when you add a membership level that does not exist.
Error 2 )
Fatal error: Call to a member function get_value() on a non-object in …\wp-content\plugins\swpm-form-builder\classes\class.swpm-fb-form.php on line 64
Note: If you have installed the Form Builder add-0n then click on the following URL WordPress Simple Membership Form Builder to help you troubleshoot some of the errors you might see.
========================================
Click on the following URL Shortcode List to continue.
I hope my information above helps you. More instructions coming soon.
If you have any questions please let me know. I will be updating this tutorial from time to time.
Enjoy.
Simple Membership Plugin Tutorial List: