Sell Products Using WP eStore Plugin shows you how to add a simple shopping cart to your website by simply adding a couple of shortcodes.
Last Updated: June 7, 2021
Latest News: Updated the documentation.
Once you have completed setting up the eStore plugin you are ready to start selling. This tutorial shows you a very simple method of selling goods. This is very basic and simple to set up. Of course there are many more ways to sell products using different addons provided by eStore plugin.
What You Need:
WordPress eStore (

Note:

 This is an affiliated link = I get a small commission if you make a purchase.)
Sell Products Using WP eStore Plugin
Once you have configured the eStore plugin products settings, you can start selling. Remember to make sure you have covered the following tutorials before you begin selling.
Step 1 ) Create a new Page, I named the page Shop for the purpose of this tutorial. Click on the shopping cart icon on the menu. See image below.
Note: You can name your page what ever you want.

Step 1-a ) There is an addon that is visual with buttons and much easier to use to insert different shortcodes to your online store. Click on the following URL Shortcode Inserter Addon For eStore Plugin.
Step 2 ) The following window will be displayed after you clicked on the shopping cart icon from above. Select the shortcodes you will add for your shopping cart. For this tutorial I selected [wp_eStore_fancy1 id=##] and [wp_eStore_cart] remember to add your item id.
Step 3 ) The following image shows you the shortcode added to the page from the backend. You will notice that I have added an id=1. (Important your id might be a different number, so make sure you enter the correct id)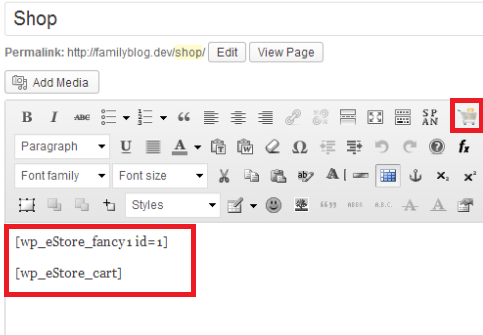 Step 4 ) The following image shows you the end results by simply adding the two shortcodes mentioned above.
Note: These settings are the basic settings needed to setup a simple online store. There are more settings and addons you can install to create a fancy online stores.
Click on the following URL Troubleshooting to continue with the tutorial.
I will be updating this post from time to time. So keep coming back for more. If you have any questions please let me know.
Enjoy.
WordPress eStore Plugin Tutorial List: