First Time Blogging WordPress Permalinks Setup helps you to configure and understand the URL structure for your blog. This is very important for SEO and search engines.
Last Updated: May 29, 2018
Latest News: I have edited the documentation below.
Photo by woodsy from Rgbstock website.
First Time Blogging WordPress Permalinks Setup Steps
Permalinks structure is very important for SEO "Search Engine Optimization", it will help search engines find your website post and pages quicker. It is part of the SEO optimization process. You will learn more about SEO and how important it is for search engines as you develop more blogs.
What every bloggers dream today is, to have their blog appear on the first couple of pages in a search. If your blog post is not on the first pages then who is going to buy, subscribe, following you and or read your articles. There is a lot of competition on the internet for the first page position in a search. However if you are on the second or third page, that is not too bad either and if people are interested in your product or read they will refine the search criteria. So don't feel overwhelm at the beginning if you are not at the top of your niche because it takes good practice to become a great SEO specialist and to be ranked in the top 10.
Note: Keep in mind that a great article is still the most important part of SEO in my opinion. Another words, always write great articles and your blog post will rank higher in due time.
Step 1 ) To edit the permalinks go to Settings -> Permalinks. See image below.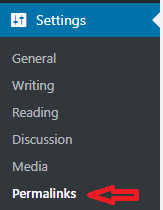 Common Settings
Step 2 ) The following image Common Settings allows you to enable one of the following options.
Permalink Structures
Plain
Day and name
Month and name
Numeric
Post name = This is one of the most used permalink structure today.
Custom Structure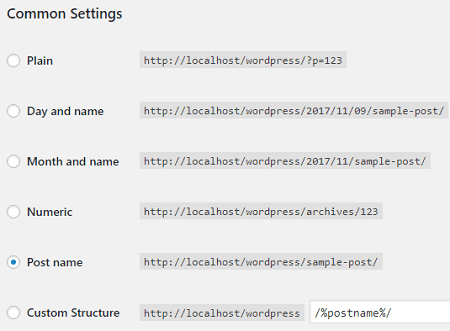 Optional Settings
Step 3 ) The following image Optional allows you to enter custom structures for your Category base and Tag base. Remember to click on Save Changes button when you finish with the settings.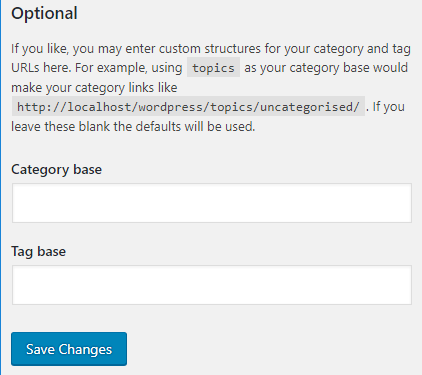 The most popular permalinks to use are: 
/%category%/%postname%/
/%postname%/
There are many different codes you can implement. You can check the wordpress codex to find many different permanent links and you will also find information on how to set up .htacess file. These settings are very important for your website or blog. Without these file set up correctly you can make a mess of your site or even have no display or connection to your website or blog.
==============================================
Click on the following URL Settings to continue with the setup.
You can also check my WordPress setup tutorials. I am constantly adding new ones.
If you have any questions please let me know. I will be updating this post from time to time so keep coming back for the latest.
Enjoy.
First Time Blogging Using WordPress List: