Fast Secure Contact Form Basic Settings post helps you set up the plugins basic settings for your forms and more.
Last Updated: January 15, 2019
Latest Update: I repaired a broken link.
This tutorial keeps getting updated based on the latest version. If nothing new is added then there won't be any changes only the changelog will be updated.
Latest News: I have fixed a broken link.
Hint: Nearly all entries have a help link to help you understand how to configure that field, entry, label etc. 
Fast Secure Contact Form Basic Settings Setup
Step 1 ) Lets begin by looking at one of the excellent improvements over the old version. The following image shows you the new version using tabs. It is better organized and easy to follow.
The following image shows you the following tabs.
Select a form option drop down menu. (Preview Form button)
Basic Settings
Fields
Styles
Labels
Security
Advanced
Meeting
Tools
Newsletter

Step 2 ) Go to Settings -> FS Contact Form -> Basic Settings tab to change some of the basic settings. It shows you the shortcode for the current form you are creating which is Form 1. This is the shortcode you will be adding to your contact us page or a post.
Other changes you can make.
Form 1 label:
Welcome introduction:
Step 3 ) The following image Email Settings allow you to edit and adjust the following settings. Make sure you enable all recommended features.
Email To:
Email Bcc address (optional):
Email Subject Prefix: = (If you don't want to receive the e-mail prefix, simply delete the text from this entry.)
Return-path address (recommended):
Enable when web host requires "Mail From" strictly tied to site. (recommended, see FAQ) help)
Custom Reply To (optional, rarely needed):
Once you finish setting up this area make sure you click on Save Changes button.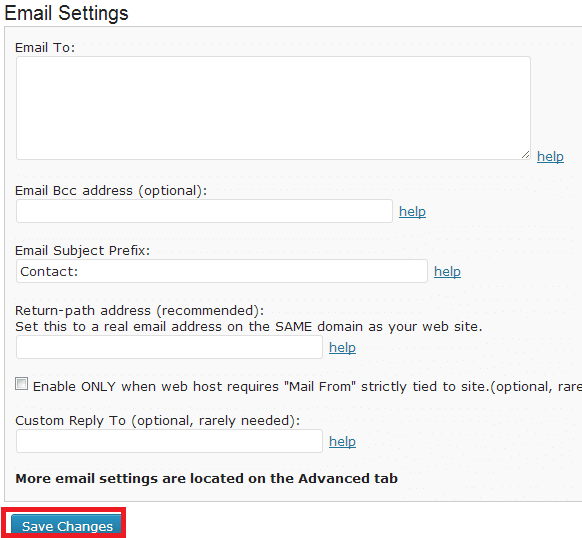 Click on the following link Fields to complete the next tutorial.
If you have any questions please let me know.
Enjoy.
Fast Secure Contact Form Plugin List: