How To Add A PayPal Donations Widget To WordPress post shows you how to add a donation widget to your site and or use a shortcode in a page or post.
In this post you will learn how to add a donation widget to your site. You will also learn how to use a shortcode in WordPress default text widget or simply add the shortcode to a page or post.
WordPress PayPal Donations Plugin Tutorials:
How To Add A PayPal Donations Widget To WordPress
Step 1 ) Go to Appearance -> Widgets menu from your admin dashboard to add a donations widget to your sidebar. The following images shows you the following fields you can edit for the widget.
Title
Text
Purpose
Reference
Click on Saved button when you ar finish setting up the widget.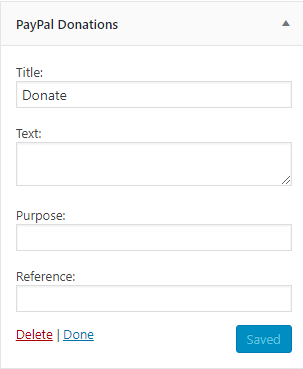 Step 1-a ) If you don't want to use the plugins widget you can add a shortcode to the text widget what comes by default with WordPress.
The following is an example shortcode you can use in the text widget. You can also use this shortcode in a post or page.
[ paypal-donation purpose="Help support the whales and allow them to live a better life."]
Step 2 ) The following image shows you what the widget looks like in this example.
Note: Your widget will look different in your site depending on your themes settings.
Step 3 ) Once they click on the donations buttons on your site, they will be taken to PayPal. The following image displays what they will see when they arrive at PayPal site.
PayPal Cart
An amount field for them to add a donation value.
An option box to enable a monthly payment.
An optional field to write a note.
They can donate with PayPal, debit or credit card.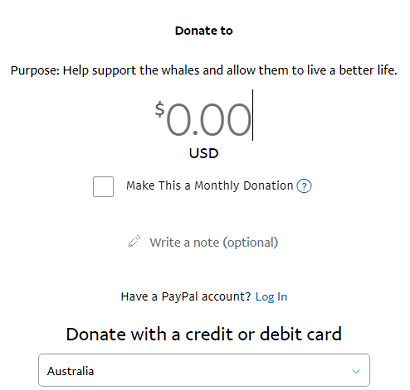 Click on the following URL Troubleshooting to find out solutions to some of the most common questions asked.
I will be updating this tutorial from time to time so keep coming back for the latest. If you have any questions please let me know.
Enjoy.