WordPress Job Board JobRoller Theme talks about a very powerful and popular job board theme that helps you sell online job spaces and much more.
Last Updated: April 23, 2019
Latest News: I added a new link to the menu below.
JobRoller is a job board theme for WordPress. The theme was built for ease of use in mind and to simplify the integration with WordPress. This allows you to concentrate on selling job listing space, accept new resumes within minutes and much more.
There is a very large active community you can trust. What this means is that JobRoller is here to stay.
Note: The information and list of tutorials in this page will slowly grow.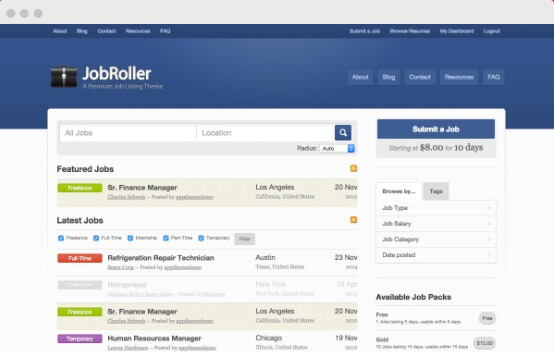 WordPress Job Board JobRoller Theme
JobRoller theme changelog Version 1.9.0 (Released on April 17, 2019). To learn more about jobroller version history click on the following URL jobroller version history.
Fixes
Admin panel – Job renewed, but date field doesn't update. (works for newly renewed listings).
Missing home template Issue.
Fixed Indeed protocol.
Fixed icons on theme dashboard, correct urls.
Maps not picking up Town or City names, just stating the Country.
Google map find button does not provide the correct location in Brazil.
Single job listing map display issue,
UK location search issue
Fixed some typos.
Fatal error: Uncaught Error: [] operator not supported for strings.
Fatal error: Use require_once statement for loading WordPress files
Changes
Single Job map migrated to AppMaps.
Added new post type and taxonomy labels,
Updated submodule includes/admin/addons-mp:
Updated submodule includes/custom-forms:

Don't use decodeURIComponent() to avoid converting pluses to spaces
Allow to add extra formbuilder field actions (like delete or disable field),
Added Field name/id in the header to give admin idea about actual field name.

and more………..
==================================
What You Need
JobRoller AppThemes (

Note:

 This is an affiliated link. I get a small commission if you purchase the theme.)
JobRoller Theme Tutorials:
If you have any questions please send me an email via my contact form.
Enjoy.