WordPress HireBee Theme Footer Area post shows you how to customize and edit the footer area in your site and more.
In this post you will learn how to manage the footer area of your site. HireBee has a field in the customizer area that allows you to edit the copyright notice in a simple way. You can even add HTML code to the copyright field.
WordPress HireBee Theme Footer Area
Step 1 ) The following image shows you the Footer Area in the site. By default when you install hirebee for the first time it adds the following copyright notice in the footer area.
Footer Area Default Copyright Notice
HireBee Theme
Powered by WordPress
Step 2 )  The image below shows you the Footer Copyright are in the customizer.
To customize the this area go to Appearance ->  Customize -> Site Identity. Go to the Footer Copyright field and type your copyright message. Make sure you click on Publish button once you finish editing the footer.
In this example I added the following notice to the field. Notice how I added some HTML code.
<div class="footer-credits"><a href="https://www.appthemes.com/themes/hirebee/" target="_blank" rel="nofollow">Terms and Conditions</a> | Powered by <a href="https://www.wordpress.org" target="_blank" rel="nofollow">mbrsolution</a> </div>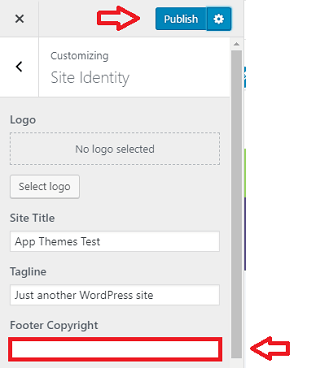 Step 3 )  The image below shows you the new edited Footer Copyright area. 

That is how simple it is to customize the footer area in hirebee.
If you have any questions or suggestions please leave a comment.
There will be more tutorials coming soon. So make sure you keep coming back for the latest.
Enjoy.
HireBee Theme Tutorial List: