WP HireBee Theme Developed By AppThemes post talks about a very powerful freelance marketplace theme for WordPress and more.
Last Updated: March 31, 2021
Latest News: Updated the changelog.
HireBee is a freelance marketplace theme for WordPress. Employers post projects and freelancers start the bidding. You setup the pricing plans and take a cut of each project. It's easy to monetize any niche by providing a crowd sourced project matchmaking service!
There are many sites online that are using this type of model for their business. It is very lucrative and can make you lots of money if set up correctly from the beginning.
Note: The information and list of tutorials in this page will slowly grow.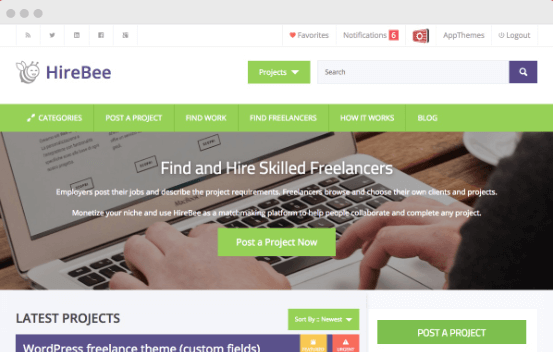 WP HireBee Theme Developed By AppThemes
HireBee theme version 1.5.0 changelog (This version was released on August 17, 2020). To learn more about hirebee version history click on the following URL hirebee version history.
Fixes:
Open mobile menus independently.
Fixed some text strings.
Submission of project with budget 0 erases form fields value after clicking submit.
Fixed PHP8 incompatibility issues
Fixed PHP Deprecated issues
Added hooks' doc comments.
Use proper errors checking instead of silencing errors in the class APP_Widget
Minor changes for better compatibility
Fixed issue with Reset Password
Changes:
Allow Disputes for Incomplete Projects!

Added appropriate option to the Disputes settings section

Removed the requirement for Public Email! It's optional now.
Added Participant Contact form on a Workspace page!

User-to-user messages will be sending with dashboard notifications, so users can track their messages.
This will be a primitive private messaging system until we introduce the full-featured one. …Yes we will …Really!

Added Custom color scheme!
Added more color options to Customizer.
New theme SCSS compilation process:

Added tons of SASS variables and mixins for easy child themes development!
Reduced overall theme CSS code

and more…
==================================
What You Need
HireBee AppThemes (

Note:

 This is an affiliated link = I get a small commission if you make a purchase.)
HireBee Theme Tutorials:
If you have any questions please send me an email via my contact form.
Enjoy.