WP HireBee Theme Developed By AppThemes post talks about a very powerful freelance marketplace theme for WordPress and more.
Last Updated: May 12, 2019
Latest News: I added another link to the list below.
HireBee is a freelance marketplace theme for WordPress. Employers post projects and freelancers start the bidding. You setup the pricing plans and take a cut of each project. It's easy to monetize any niche by providing a crowd sourced project matchmaking service!
There are many sites online that are using this type of model for their business. It is very lucrative and can make you lots of money if set up correctly from the beginning.
Note: The information and list of tutorials in this page will slowly grow.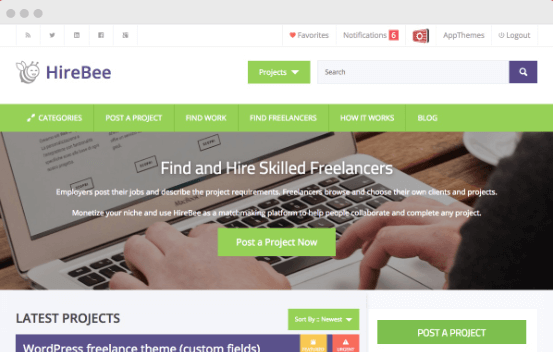 WP HireBee Theme Developed By AppThemes
HireBee theme version 1.4.8 changelog (This version was released on May 11, 2019). To learn more about hirebee version history click on the following URL hirebee version history.
Fixes:
Proposals currency defaulting to USD throughout the site.
Creating a child theme the bee logo disappears.
Password Reset form throws a notice on PHP 7.2.
Changes:
Added Customizer Custom Controls library (for developers uses).
==================================
What You Need
HireBee AppThemes (

Note:

 This is an affiliated link = I get a small commission if you make a purchase.)
HireBee Theme Tutorials:
If you have any questions please send me an email via my contact form.
Enjoy.