WP Site Status Information Using Health Check Plugin post talks about the status of your site. In this post you will learn how your site is doing and more.
Last Updated: August 8, 2023
Latest News: Updated the wording in the tutorial list.

Most of you know by now how important it is to maintain a healthy working WordPress site. To make things more easy for you, the following plugin Health Check can help you achieve this. This plugin has the capability to tell you a lot about your WordPress site status by clicking a few tabs.
This post shows you an example of results of a status check carried out in a testing site. You also get to learn how to check and decide whether or not something might need to be fixed from the status check report. In some cases your site might be running great and without any issues. If that is the case then you are fortunate and you can happily keep managing your site. However you still need to monitor the functionality and stability of your site. Health Check plugin can help you achieve that.
Health Check & Troubleshooting 1.7.0 changelog.
General: Improved styling inconsistency between the plugin and WordPress core.
General: Fixed an issue with plugin translations where language strings would get mixed when using third party language plugins, or a separate profile language.
Troubleshooting Mode: Fixed the URL used when disabling elements and having a subdirectory installation.
Troubleshooting Mode: Fixed a deprecation warning when disabling troubleshooting mode on PHP version 8.3 or higher.
Troubleshooting Mode: Added reference on how to troubleshoot as different users when testing scenarios.
Tools: Fixed integration with WPTide for the PHP Compatibility checker.
and more.
Health Check Tutorials:
What You Need:
WP Site Status Information Using Health Check Plugin
Step 1 ) Go to Tools -> Site Health -> Status to start assessing your site status. As illustrated in the following image. In this image you can see a site health reading of 62%.

Site Health Status
Step 2 ) The following image Site Health Status shows you the recommended improvements you can carry out in your site. Obviously if your site is well maintained then you will not need to do any improvements.
Note: Your site will have different information gathered by the plugin.
Recommended Improvements Sample
WordPress update available (5.2)
You should remove inactive plugins
You should remove inactive themes
We recommend that you update PHP = For best performance we recommend using PHP 7.2 or higher. (This link provides information about the recommended PHP version to run WordPress.)
One or more recommended modules are missing
Your site does not use HTTPS
Click on Passed tests button to view everything that has passed the test.
Note: You might like to read the following URL how-to-update-php-version-in-a-vps-server.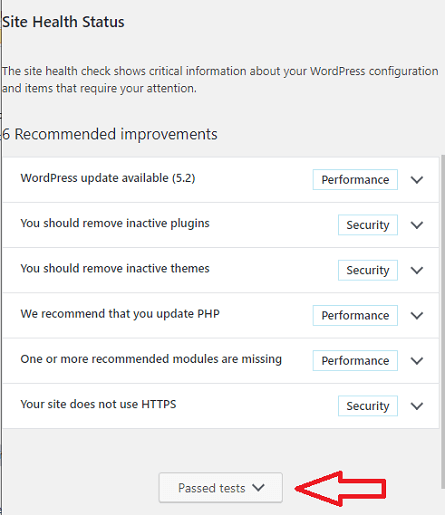 Items with no issues detected
Step 2-a ) The following image 10 Items with no issues detected shows you what is up to day in the site and does not need updating.
Note: Your site will have different information gathered by the plugin.
Items with no issues detected
SQL server is up to date
UTF8MB4 is supporeted
Your site can communicate securely with other services
Schedule events are running
HTTP requests seem to be working as expected
Your site is not set to output debug information
The REST API is available
Can communicate with wordpress.org
Background updates are working
Your site can perform loopback requests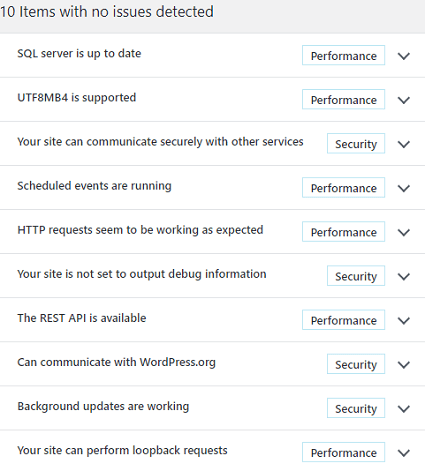 That is how simple it is to check the current status of your site using Health Check plugin.
I will update this tutorial from time to time. Make sure you come back for the latest updates.
If you have any questions please let me know.
Enjoy.