WP Taskerr Theme For Micro Jobs Marketplace helps you to create a micro job marketplace site using this theme and more.
Last Updated: November 18, 2019
Latest News: Added another tutorial to the list below.
Taskerr is a theme that helps you connect people needing jobs done. In other words,  someone needs a logo done in their site, they advertise their job in your site. The sellers offer their services at a set price and customers buy them. You profit on each transaction. Fiverr is a perfect example of how a "gig economy" successfully works.
So what are you waiting for? Setup your own micro jobs marketplace and start monetizing your website today!
This page has a list of tutorials and information about Taskerr theme. These tutorials will help you get started, manage and customize the theme for your site. They are written for beginners and advance users.
Note: The information and list of tutorials in this page will slowly grow.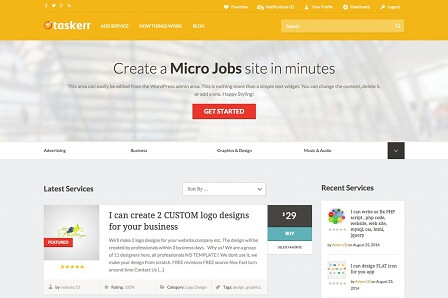 WP Taskerr Theme For Micro Jobs Marketplace
Taskerr theme changelog Version 1.3.3 (This version was released in May 23, 2019). To learn more about classipress version history click on the following URL taskerr version history.
Fixes:
Removed "http:" to make browser not display "Mixed content" warning.
Password Reset form throws a notice on PHP 7.2
Use require_once statement for loading WordPress files
Fixed issue of Media Manager on iOS devices.
Add filters to system info page sections.
Fixed the metabox help icon position.
Fixed logic for addons with 0 duration
Fixed some text translations
Recalculate total rating when it's aggregated incorrectly
Don't use deprecated create_function()
Changed some files mode for better security.
Changes:
Added new wp custom post type and taxonomy labels, add gettext context to some phrases.
Migrate to WP 4.3 Site Icon option. Existing favicon.ico now used as fallback until site icon will not set in Customizer.
Added Customizer Custom Controls library (for developers)
Updated "Breadcrumb Trail" lib to 1.1.0
Removed Password from the user registration email
Allow to use template file media-manager-attachment.php for the appthemes_output_attachment() function
Enable multiple choice on media manager frame
Added new query filter to place featured listings on top of regular ones.
Added hooks 'appthemes_prune_post_addon' and 'appthemes_prune_user_addon' to catch prune addon event
Make 'Order Log' string translatable
Make all order log messages translatable
Changed some help texts in settings
Some performance improvements
Don't show 'View Orders' link in admin bar (as of wp 4.7).
Added more popular & requested currencies.
==================================
What You Need
Taskerr (

Note:

 This is an affiliated link. I get a small commission if you purchase the theme.)
Taskerr Theme Tutorials:
If you have any questions please send me an email via my contact form.
Enjoy.