WP Taskerr Theme For Micro Jobs Marketplace helps you to create a micro job marketplace site using this theme and more.
Last Updated: September 28, 2019
Latest News: Updated the changelog version.
Taskerr is a theme that helps you connect people needing jobs done. In other words,  someone needs a logo done in their site, they advertise their job in your site. The sellers offer their services at a set price and customers buy them. You profit on each transaction. Fiverr is a perfect example of how a "gig economy" successfully works.
So what are you waiting for? Setup your own micro jobs marketplace and start monetizing your website today!
This page has a list of tutorials and information about Taskerr theme. These tutorials will help you get started, manage and customize the theme for your site. They are written for beginners and advance users.
Note: The information and list of tutorials in this page will slowly grow.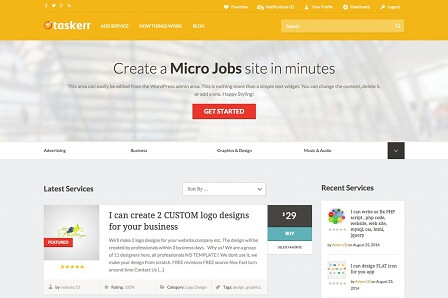 WP Taskerr Theme For Micro Jobs Marketplace
Taskerr theme changelog Version 1.3.4 (Released on August 21, 2020). To learn more about classipress version history click on the following URL taskerr version history.
Fixes:
Fixed custom header theme support.
Fixed compatibility issues with WordPress 5.5.
Fixed Embedding media via Media Manager.
Fixed issue with deprecated contextual_help filter called in scb framework.
Fixed issue with orphaned subcategories in the function appthemes_categories_list().
Fixed appthemes_create_child_list(): don't lost $wrappers in sub-sub categories.
Fixed issue with disabled "Insert into Post" button on Media Manager.
Fixed possible issue with page view counter.
Use proper errors checking instead of silencing errors in the class APP_Widget.
Changes:
Added WordPress Confirm action handler to the AppThemes Login page.
Disallow direct access to the Password Reset page.
Remove G+ from the list of social networks.
Don't limit attachments for admins in Media Manager. Don't limit attachments for a current post in Media Manager, allow using filter "Uploaded to this post" instead.
Allow to pass a callback function to the appthemes_categories_list().
Allow to use optional HTML wrappers instead of hardcoded in appthemes_categories_list() and appthemes_categories_list().
==================================
What You Need
Taskerr (

Note:

 This is an affiliated link. I get a small commission if you purchase the theme.)
Taskerr Theme Tutorials:
If you have any questions please send me an email via my contact form.
Enjoy.