Advanced Systemcare Windows Toolbox shows some of the cool tools you can use to troubleshoot your windows system and more.
Last Updated: September 10, 2023
Latest News: Updated the documentation.
Toolbox menu has a list of different tools you can download and install to further improve your Windows 10 / 11. There are many tools you can use to keep your operating system optimize, clean, up to date and much more. The following is a list of the different menus you will find inside the Toolbox.
Toolbox Tools Menu List:
Featured Products
System Optimize
Security & Repair
System Clean
Advanced SystemCare Windows Tutorials:
Toolbox
Advanced SystemCare Windows Toolbox
Step 1 ) When you click on Toolbox tab you will have the following areas to set up, optimize and more. See the following list for all the different options you can set up.
Featured Products:
iTop VPN
iTop Data Recovery
DualSafe Password Manager
iTop Private Browser
IObit Uninstaller
Driver Booster = This tool is very important. It will help you keep your drivers up to date.
IObit Malware Fighter
Smart Defrag
Protected Folder
System Optimize:
Smart RAM (Pro)
Internet Booster (Pro)
Program Deactivator
MyWin10
Registry Defrag
System Information
Auto Shutdown
ASC Portable Version
Security & Repair:
Win Fix (Pro)
FaceID
Context Menu Manager
Disk Doctor
System Control
DNS Protector
Default Program
System Clean:
Registry Cleaner (Pro)
Disk Cleaner (Pro)
File Shredder
Empty Folder Scanner
Shortcut Fixer
Duplicate File Finder
Large File Finder
Process Manager
==================================
Step 2 ) Lets look at some of the tools found in Toolbox, ASC Portable Version, Default Programs and Large File Finder.
Note: These are just some of the many tools that you have at your disposal with this utility.
The following option allows you to create a potable version, which you can take with you to troubleshoot friends and relatives computers and laptops. This comes in very handy to have as a portable tool.
Step 3 ) The following Default Program can help you select which programs or software you would like to have as a default for various utilities, software and more.
In general Windows allows you to change these settings. However if you are already using ASC, it makes it much simpler to have all these options in one place. It reduces the amount of time spent by reducing the mouse clicks.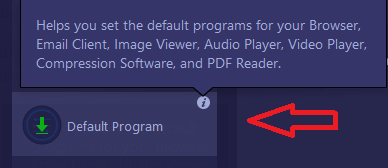 Step 4 ) The Large File Finder tool can help you find files and folders that are using a large amount of space in your hard disk. I know that nowadays people have gigabytes of storage in their hard disk. However you will be surprise how quickly people use up gigs in their laptops or desktops.
Most people nowadays is downloading large files from the internet like movies, games, media etc. Having this tool handy can help you find what is taking up so much space. Especially when you create backups and you find out that your backup is huge in size.

==================================
If you have any questions please let me know.
Enjoy
Return Back To: