Windows 10 Settings And Security shows you how to recovery your system and backup and recover your files and more.
Last Updated: February 13, 2018
Latest News: I have added another tutorial to the menu.

The latest updates have added a few more settings and improved cosmetically the looks. Windows 10 is becoming a great operating system. Although it still has a few issues between hardware and drivers.
The new update and recovery features are looking great. They have improved a lot since Windows 7. I did not get to play around enough with 8.1 to comment. But the overall about Windows 10 is that it is doing very well.
Windows 10 Settings And Security Steps
Step 1 ) Click on Start -> Settings to start using Update and Security. See image below.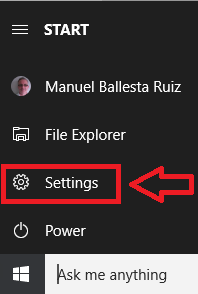 Step 2 ) Go to Start -> Settings -> Update and Security to begin.
The following image also allows you to check and set up the following options.
System
Devices
Network & Internet
Personalization
Apps
Accounts
Time & Language
Gaming
Ease of Access
Privacy
Update & security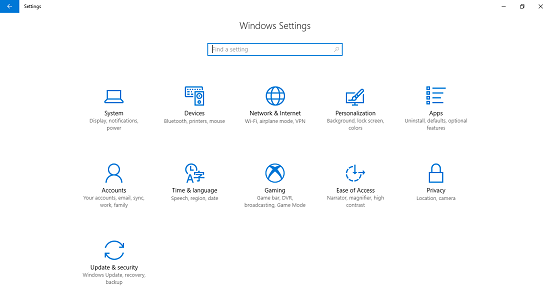 Update & Security Settings
Step 3 ) The following image Update & Security allows you to work with the following options.
Windows Update
Windows Defender
Backup
Troubleshoot
Recovery
Activation
Find My Device
For Developers
Windows Insider Programs
Windows Update
Step 3-1 ) The following settings Windows Update allows you to choose how updates are installed in your computer. There are a few options for you to choose from.
Windows Defender
Step 3-2 ) The following Windows Defender provides the following security options. This tool has become very powerful and does a great job in protecting your computer/laptop and device. In most cases you will not need an anti virus software but can also be an advantage.
Note: You might like to read the following URL Recommendation Tools For Windows.
Real-time protection
Cloud-based protection
Automatic sample submission
Exclusions
Enhanced notifications
Windows Defender Offline
Version info
Backup
Step 3-3 ) The following Backup allows you to backup your files to an external hard drive. You need to add an external hard drive or USB stick when ever you want to backup your files.
Troubleshoot
Step 3-4 ) The following Troubleshoot allows you to troubleshoot many of the system issues that you might run into.
Recovery
Step 3-5 ) The following Recovery allows you to restore your operating system and more. backup your files to an external hard drive. You need to add an external hard drive or USB stick when ever you want to backup your files.
Reset this PC
Go Back to Windows 7 (This options is only available for the first month after you upgrade to Windows 10)
Advanced Startup = This option allows you to boot up from an external device, recover from an image and more.
Activation
Step 3-6 ) The following Activation allows to check and activate your operating system It also allows you to change the product key if have purchased a new one.
Find My Device
Step 3-7 ) The following Find My Device allows you to set up some options which can help you locate your device if it happens to be misplaced, stolen or other.
For Developers
Step 3-8 ) The following For developers is only meant for developers. If you are not a developer then don't worry about this feature.
Windows Insider Programs
Step 3-9 ) The following Windows Insider Programs allows to view future updates and improvements in Windows 10. You can even provide feedback.
Click on the following URL Defender Security Settings to learn more.
I will be updating this tutorial in the future. So keep coming for the latest updates.
If you have any questions please let me know.
Enjoy.
Windows 10 Tutorials List: