WordPress Simple Membership Members Login Page shows you the members login screen and allows each member to edit their profile.
Last Updated: June 14, 2018
Latest News: I have updated the information.

This post shows you how simple it is to set up the membership pages. This allows members to login and navigate to the allowed areas in the website in accordance to the membership level they have subscribed to. It also gives them access to their profile page which allows them to edit and make changes if they choose.
Note: This plugin does not control the menus and or sidebars. This plugin only controls the content in pages, post and feed. To learn more read Step 6 ) below.
WordPress Simple Membership Members Login Page
Step 1 ) The following image shows you a typical membership login website. The following information is displayed in your menu.
Note: The pages will not appear in your website unless you have added the pages either through your theme or under Appearance -> Menus via WordPress admin.
The following pages are automatically created when you install and activate the plugin for the first time. You can learn more about it from the following URL Settings, focus on Step 4 ) to learn more.
Members Login Menu
Member Login
Password Reset =

Note:

You can customize the e-mail sent to the member. Check the following documentation to learn more.
Profile
Note: The Profile page content will be hidden, unless you log in as a member.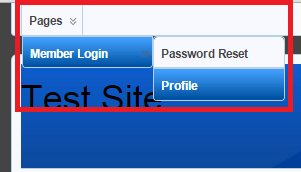 Step 2 ) The following image Member Login allows the member to login or if they are new to the website they can also subscribe. There are two links available Forgot Password? and Join Us.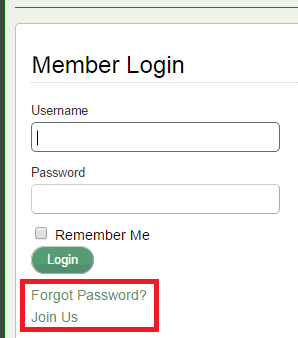 Step 3 ) The following image shows you the following information about the logged in member.
Logged in as
Account Status
Membership
Account Expiry
Edit Profile
When you want to logout click on the Logout link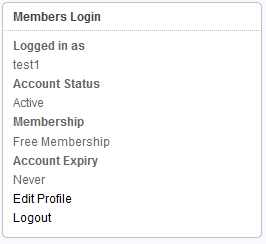 Profile
Step 4 )  The following image Profile allows the member to edit their profile. They cannot edit their User Name or Membership Level but they can edit the following fields.
Members Profile Fields
Username (Can't edit this field)
Email = Edit email
Password
Repeat Password
First Name
Last Name
Phone
Street
City
State
Zipcode
Country
Membership Level (Can't edit this field)
The members need to click on Update button or else their new settings will not save.
Delete Account button is displayed when you enable the following feature Allow Account Deletion under Advanced Settings tab.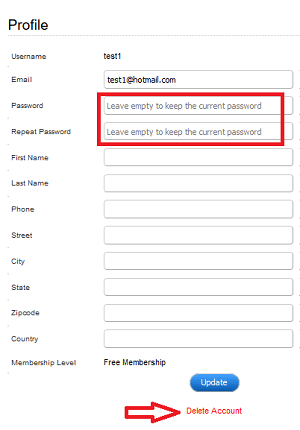 Step 5 ) The following image displays the WordPress admin menu, user profile and Simple Membership login menu.

Note: This menu will only display if you don't have the following feature enabled Hide Adminbar and the member is also a WordPress User. Also if you have the following feature enabled Show Adminbar to Admin and the member is not an admin member, then they will not see the menu.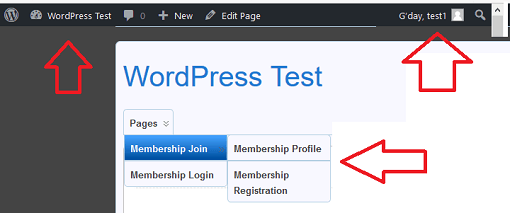 Note: If you don't see one or more of the above pages when a member logs in, check to make sure your pages are available and the shortcodes are correct. You might also have a plugin or theme conflict.
Managing Links In Menus And Sidebars
Step 6 ) If you added your login and registrations links in your menus or side bars you will need a plugin to control who can see the links. I added this information because many have asked questions in the forum about how to control what members can see when they log in. The following plugin Conditional Menus should help you with this.
===========================
Click on the following URL Join Us Page to continue with the settings.
If you have any questions please let me know. I will be updating this tutorial from time to time.
Enjoy.
Simple Membership Plugin Tutorial List: