Last Updated: August 24, 2015
Translate Suffusion Theme into Another Language tutorial will help you to translate your Suffusion theme into the language of your choice as long as it has been translated and found in Suffusion translate website.
Latest News: I have updated some of the information below.
Information: Translating Suffusion theme only translate the front end. It does not translate the back end "Suffusion Options" , which some might be under the impression that it does.  
What you need:
Suffusion Translation files. You will find all the available translated files on this link.
FTP program or cpanel File Manager. I use filezilla which is free.
A text editor, I use notepad in Windows. It must be a plain text editor.
You might like to read Sayontan's tips at Translation Suffusion.
Hint: Remember to keep saving all your changes. You might want to create a backup just in case. 
Translate Suffusion Theme Into Another Language Steps
Step 1 ) The following text "Posted by" will be an example of what gets translated into Spanish, the language of my choice. See image below.
Step 2 ) Lets add a folder to our child theme "suffu-scion". You need to name the folder translation. See image below.
Step 3 ) We have to make sure that the folder has the correct attributes. In WordPress all folders should have 755 attribute. If you use filezilla ftp program, right click on the folder on your server to change the attributes. See image below.
Step 4 ) The following files were downloaded and unzipped from suffusion's translated URL.
Two files unzipped:
1) es_ES.mo
2) es_ES.po
Note: Make sure you remember where you downloaded the files.
Step 5 ) Copy the following two files into the new folder created on step 2.
Files to copy:
1) es_ES.mo
2) es_ES.po
Remember these files were download from suffusion's translated URL and unzipped locally to your hard disk. See image below.
Step 6 ) Click on your WordPress root folder, in my case it is wptest. Look for the following file wp-config.php. Drag the file to your computer so that you can edit the file. See image below.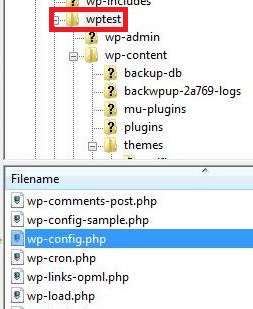 Important: The following option does not apply any more if you are running WordPress 4 and above. Click the following URL WordPress 4 deprecates the WPLANG constant to read more about it.
Step 7 ) Open the file with a plain text editor. If you are using Windows operating system then use notepad. Add your language code, in this tutorial I am translating Suffusion front end into Spanish so I added es_ES. Save your file
Remember only use a plain text editors. See image below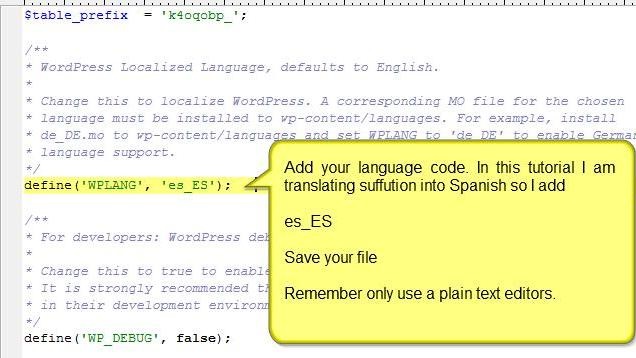 Step 8 ) Upload wp-config.php back to the same location you downloaded the file from in Step 6 ) above.
Step 9 ) Go back to your browser and make sure you refresh the browser. You should see the translated text, Escrito por. Of course there will be more areas translated according to the language file you uploaded to your server, but I only wanted to point to this line for you to see the changes. See image below.
Very simple to translate into your language.
I will be updating this tutorial from time to time so keep coming back for the latest.
More suffusion tutorials: