The following Suffusion Theme Options Typography Custom Layout post shows you how to configure the title style for custom layouts.
Last Updated: March 2, 2018
Latest News: I have updated the documentation below.
Suffusion allows you to configure the title for custom layouts which is very similar to the blog and page title post. However this is more to do with creating customize layouts for your site.
Suffusion Theme Options Typography Custom Layout
Step 1 ) Go to Appearance -> Suffusion Options -> Typography -> Custom Layout menu. See image below.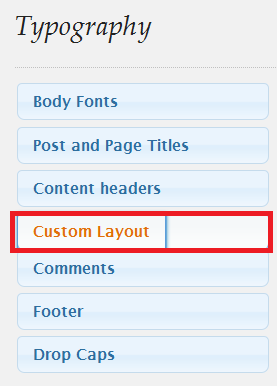 Step 2 ) The following image Page Title allows you to set up the following options.
Default or custom font styles?
Title Font
Font Color:
Font Face:
Font Size:
Font Size Type:
Font Style:
Font Variant:
Font Weight:
This is all you need to style the pages when using the custom layout template.
Click on the following URL Typography Tutorials for more typography tutorials.
If you have any questions please let me know. I will be updating this from time to time. So keep coming back for the latest.
Enjoy.
More Suffusion Tutorials: