The following post Improve AMD Acer Laptop Performance In Windows 10, helps you troubleshoot and improve your Acer laptop performance.
Last Updated: October 7, 2022
Latest News: I have update the documentation.
The reason why I decided to publish this tutorial is because I had an incident with an Acer laptop I purchased and lucky for me I had a copy of Windows 10 burned on a DVD. The recovery DVD, which I created in 2015 saved me a huge headache. But it I also needed to download all the updates that were not included in the recovery media created in 2015.
Note: I have now created another recovery media, which includes all the latest updates from Microsoft up to 2018.
I was able to use the DVD and reinstall windows 10 on top of my corrupted boot drive C:. The installation also moved my old windows files into a folder and also detected my genuine product key which I did not have it written down anywhere.
The above happened because of a corrupted driver and one of the latest Windows 10 updates. It crashed my system totally. I suspect it was the video driver. Yes I did have a backup but the backup had the driver that corrupted the whole process.
The laptop in question is an Acer Aspire E5-523G-90QW. This laptop has 8 GB of ram and an AMD A9-9410 cpu with turbo core technology. This laptop allows you add up to 16 GB. So if your laptop has 16 GB of ram, your system will run much smoother and allow you to run more apps, programs at the same time without lagging too much. Another words 16 GB is better than 8 GB. Information: This laptop does not support Windows 11.
Note: The instructions and procedures below should also work with any type of laptop and brand name.
Improve AMD Acer Laptop Performance In Windows 10
Step 1 ) First make sure you have followed the following instructions How To Create Windows 10 Recovery Media.
Step 2 ) Once you have the DVD or USB recover media created, boot your laptop using the recovery media. Follow the on screen instructions to install Windows 10. Make sure you install in C: drive boot partition. (Most systems are setup with C: drive as the bootable drive).
This will take a while, so make sure you let it do its work and meanwhile sit back and relax. Watch tv, play a game or what ever makes you happy.
Step 3 ) Once it is finished installing Windows 10, you will need to enter some personal details. Once you finished entering your personal details, the system will personalized itself for you. At this point you should have the laptop with Windows 10 running. Of course there is still more work to be carried out.
Step 4 ) Depending on the date the recovery media was created, there will probably be updates from Windows "Microsoft" that need to be carried out. Also your Acer laptop drivers need to be downloaded. But this time you will let Windows install the default drivers from their servers for you. These drivers will be updated through the system updates performed by Windows.
First Backup
Step 5 ) It is now time to create your first backup. This backup includes a stable running Windows 10 operating system and a few drivers. Click on the following URL Recommendation Tools For Windows to install easeus todo backup I highly recommend. I have been using this utility for many years. A life saver if you ask me.
In the link above you will also find another tool that I highly recommend Ccleaner. Which is also needed to improve your Acer laptop performance.
Device Manager
Step 6 ) Open up Device Manager as illustrated in the image below. You can see that all the drivers are installed and nothing is missing. That is what you want to see in your laptop. If you see that a driver is missing you need to investigate further and install the driver.
To access device manager, just type device manager in Cortana and device manager will appear in the list. Another way of getting to device manager is via Control Panel.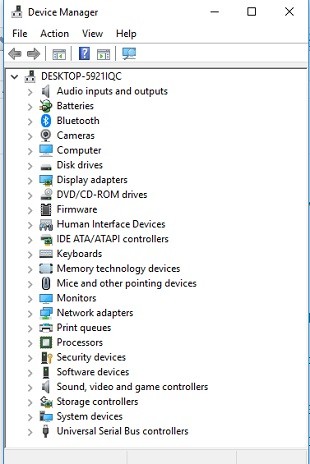 Step 7 ) There are three drivers that need to be updated. The following images show you the drivers that I updated in my laptop.
Note: Remember that these updates are coming from Windows.
Step 7-a ) The following image shows you what you need to click on to update your drivers, uninstall and disable. For now all you need to do is update the drivers.

AMD Radeon (TM) R5 M430
Step 7-b ) The following image shows you the following driver AMD Radeon (TM) R5 M430 that needs to be updated.
Note: There is an issue with the latest driver from AMD website and this particular Acer driver model. It is important that you download the driver from acer website. Acer released an updated version on April 9, 2018 because of this issue. This driver version is 22.19.163.1792, which is older than AMD's new driver version but works well.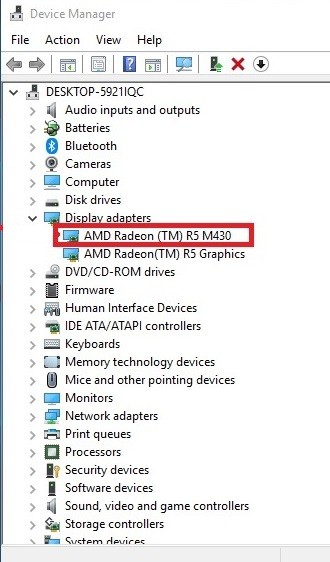 Qualcomm Atheros QCA9377 Wireless Network Adapter
Step 7-c ) The following image shows you the following driver Qualcomm Atheros QCA9377 Wireless Network Adapter that needs to be updated.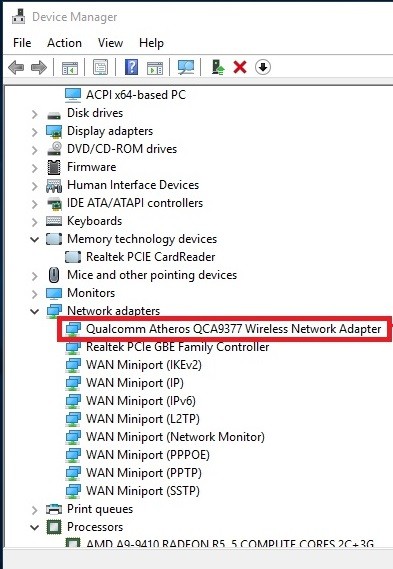 AMD High Definition Audio Device
Step 7-d ) The following image shows you the following driver AMD High Definition Audio Device that needs to be updated.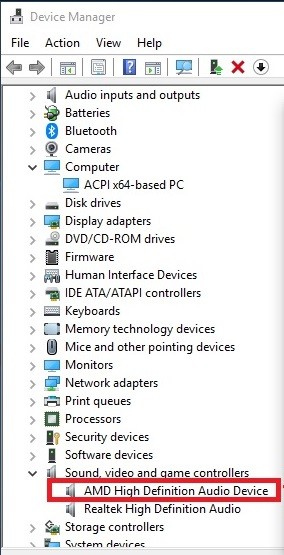 Task Manager
Step 8 ) After carrying out all the above you can now start testing the performance of your Acer laptop. Open Task Manager to see how your laptop is performing. In the following image you can see the performance is very good.
The following tools, applications and browsers are resource hungry and are running without any hiccups.
Currently Running
Google Chrome
SeaMonkey
xampp-control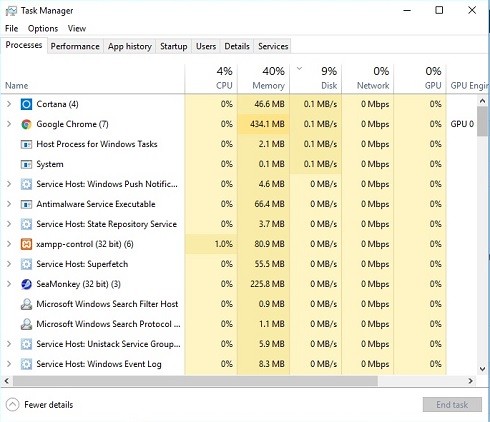 Second Backup
Step 9 ) It is now time to create your second backup. This backup includes all working drivers and a fully running system with great performance.
So now you have two backups, the first one with bare minimum drivers and the second with a fully functioning system. This procedure can help you recover quicker and give you more autonomy when trying to recover your system.
That is all you have to do to have your Acer laptop run much smoother and perform much better. There is still more to do which will be included in another tutorial coming soon. But for now the above steps will help you run your Acer laptop with minimum issues and most important you have created two backups.
Note: This particular Acer model does not perform very well with heavy resourceful games. However the above will at least help you run a much better system for your everyday needs.
Click on the following URL How To Update AMD Acer Laptop Drivers to continue with the next tutorial and learn how tu update the AMD drivers and improve further the laptop performance.
I will be updating this tutorial in the future. So keep coming back for the latest updates.
If you have any questions please let me know.
Enjoy.
Windows 10 Tutorials List: