WP eMember Plugin General Settings tutorial will show you how to set up this membership plugin basic settings and much more.
This is a very powerful plugin. It has many options to setup. So take your time to set it up and make sure you test each option thoroughly before you go live.
Last Updated: November 14, 2016
Revision Update: I have updated the plugin version.

WP eMember Plugin General Settings Steps
Step 1 ) Install the plugin like you normally do. Log into your website as the administrator and navigate to the left hand side. Click on WP eMember, you will see the following menu structure. See image below.
Dashboard
Settings
Members
Membership Level
Admin Functions
Step 2 ) The following image Dashboard will show you any activities in your membership site. The other menus in the list are Members, Membership Levels and Settings.
General Settings
Step 3 ) Go to WP eMember -> Settings -> General Settings and select from the following options. See images below.
In the he following image you can select from the following options eMember Language, Allow Free Membership, Free Membership Level ID, Free Members Must Confirm Email Address, Entries Per Page, Enable More Tag Protection and Enable Public profile Listing.
Information: Remember that each option has a description next to it for you to read and choose if it is an option you wish to enable or not.
Warning: Please make sure that you read each option carefully before you enable that option. This plugin is very powerful and has a large number of features you can enable or disable. If it is not set up correctly from the beginning you will run into problems.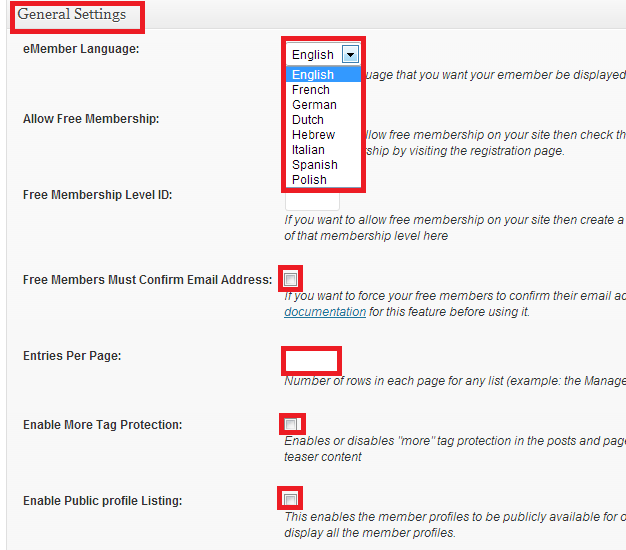 Step 4 ) In the following image you can select from the following options Allow Account Deletion, Allow WordPress Account Deletion, Enable Secondary Membership, Use Profile Image in WordPress Comment Avatar, Enable Custom Fields and Enable Auto Expiry Email Notification.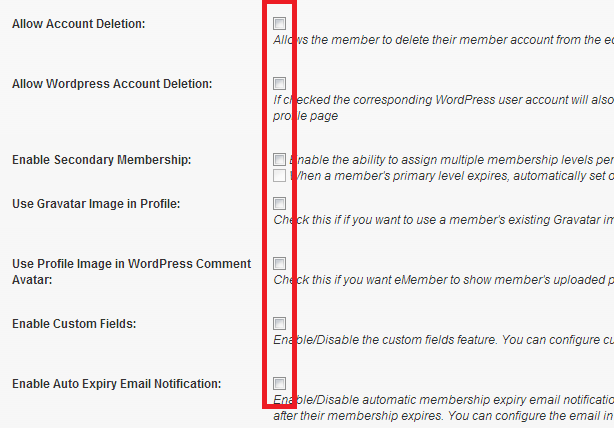 Step 5 ) In the following image you can select from the following options Manually Approve Member Registration, Protect Comments Separately, Members Must be Logged in to Comment, Enable Google First Click Free Feature, Format the Post/Page Protected Message and Turn Off Protected Message Formatting.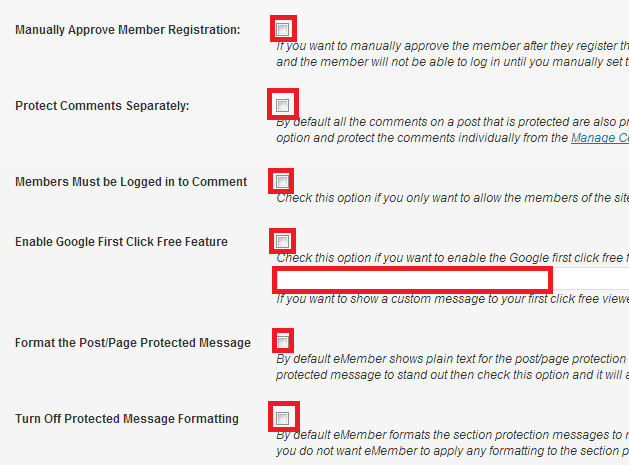 Member Login Related Settings
Step 6 ) In the following image you can select from the following options  Login Widget Title, Enable After login Redirection, Enable Auto Login After Registration, Display Secure RSS Feed, Display a Link to Member's Welcome Page, Enable Fancy Login Widget/Popup, Disable Inline Login Widget Option and Login Restriction by IP Address: IPs per day.
Step 7 ) The following image allows you to set up the following options.
Logout the Member After xx Minutes of Inactivity
Disable Simultaneous Member Login = You can also select to Keep only most recent login active or to Keep only current session active

(This was added in version 8.8.8)
I will be updating this post from time to time. So keep coming back for more.
Enjoy.
Go Back To eMember Plugin Tutorial List: