Last Updated: December 16, 2015
We are going to create a suffusion child theme in a few steps. Sayontan Sinha has released this amazing child theme.
Revision Update: I have reworded some information below.

Most people nowadays know what a child theme is. But for those of you who don't know, a child theme is basically a theme that is always linked to the parent theme but does not have all the bulk of the folders and files the parent theme has. In a way the child theme is hooking into the parent theme to display the same layout as if you were using the parent theme but with all the new customization added.
Imagine if you have made a huge amount of special customization in your website and one day you decide to upgrade the parent theme? That would represent a nightmare to some who have added many customization to their website. That is when a child theme comes in handy.
What that means is you can customize as much as you want through CSS and Functions the child theme and that will not affect the parent theme but it will display those customization in your website. It also means that when you update or upgrade the parent theme you will not loose your customize settings in the child theme.
Hint: What you need before you begin is an ftp program unless you want to use cPanel or have access to the server by other means.
Suffusion Child Themes Tutorials:
Create A Suffusion Child Theme In a Few Steps
Create A Suffusion Child Theme In a Few Steps
Install Child Theme Manually
Step 1 ) First unzipped the downloaded folder suffu-scion.zip from the link above in your computer or laptop.
Step 2 ) Open up filezilla and navigate to your themes folder found inside your WordPress installation. Upload the folder and all the content to your server as pointed in the image below.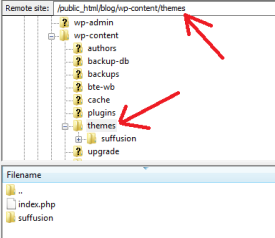 Step 3 ) The following image shows you the suffu-scion folder underneath the themes folder and above suffusion folder "which is the parent theme as explained above".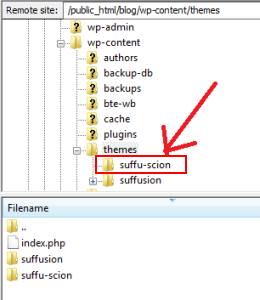 Step 4 ) Check and make sure that your new folder has the correct attributes. Right click with your mouse on the new folder just dragged into your server and check the attributes. See image below.
Note: Remember this is using Filezilla.
Step 5 ) Go to Step 9 below. (If you use cPanel File Manager, you can upload the zipped folder. Create a new folder and name it suffu-scion. Unzipped the folder content into the folder you just created. The server should add the proper files permission for you. But to be on the safe side you should double check the folder permissions.)
Install Child Theme Automatically
Step 6 ) Go to Appearance -> Themes to upload the child theme you downloaded in Step 1 ) above. See image below.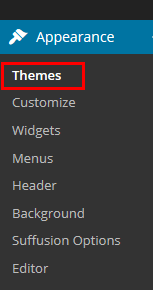 Step 7 ) In the following image click on Upload Theme link to upload and installed the child theme you downloaded above.

Step 8 ) The following image shows you the theme you have uploaded and are ready to install. Click on Install Now button.
Note: This process is the same for any theme you wish to upload to WordPress.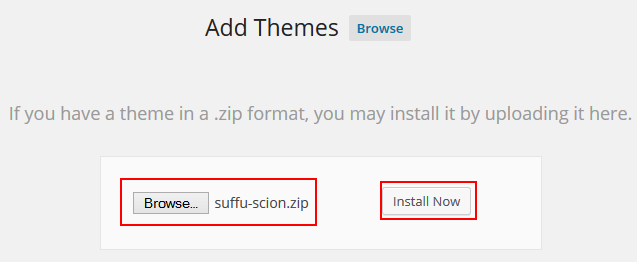 Step 9 ) Now log into your WordPress admin panel and activate your theme. Or if you are already logged in simply click on the following link Activate as shown in the image below.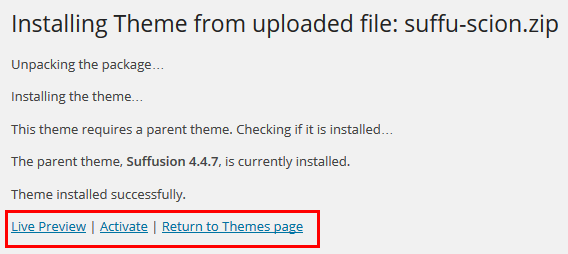 Once you have uploaded your child theme and activate it as shown above you need to enable the child theme option in Suffusion. Click on the following URL Suffusion Theme Options Back End Child Themes to enable the child theme.
If you have any questions please leave a comment. Come back for more suffusion tutorials
More suffusion tutorials: