WP Simple Membership WooCommerce Addon Settings shows you how to create a membership account automatically when a product is purchased.
There are times when you want to sign up your clients to your site as a member after they purchase a product successfully. Simple Membership WooCommerce addon achieves this for you. There are only a few options you need to set up and enable in the addon. This helps you to simplify the the creations of members in your site.
This addon compliments the following two member registration options.
Allow WooCommerce to Create the User Account
Allow Anonymous Checkout in WooCommerce
Add-on Needed:
WP Simple Membership WooCommerce Addon Settings
Step 1 ) Install the WooCommerce add-on you downloaded from the URL above.
Note: Check the following URL how-to-install-wordpress-plugins to learn about how to install a plugin or addon.
Step 2 ) Go to WP Membership -> WooCommerce to set up the addon.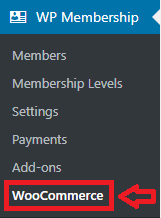 Step 3 ) The following image allows you to set up the following WooCommerce addon features.
WooCommerce Addon Features
Enable this feature
Default Membership Level:
Default Account Status:
Click on Save button once you have completed the settings.
Note: Enable this feature if you allow your customers to create an account on your site when they checkout via WooCommerce.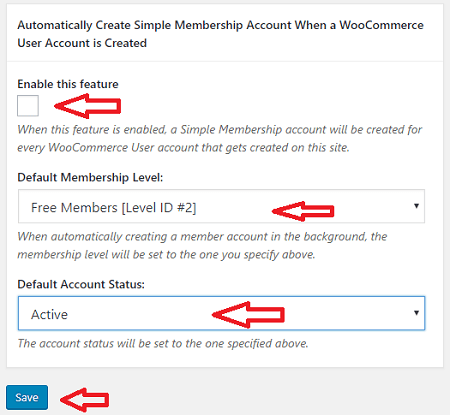 Step 4 ) The following image WooCoomerce All Products displays the products added to your shopping cart. This is where you will set up the membership addon integration for a product.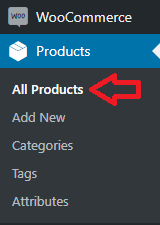 Step 4-a ) The following image Payment for Simple Membership shows you the settings area for the addon, displayed in each individual product settings. You can configure this for each of your products added to your store. Here you can select the Membership Level: assigned to the buyer when they purchase a product.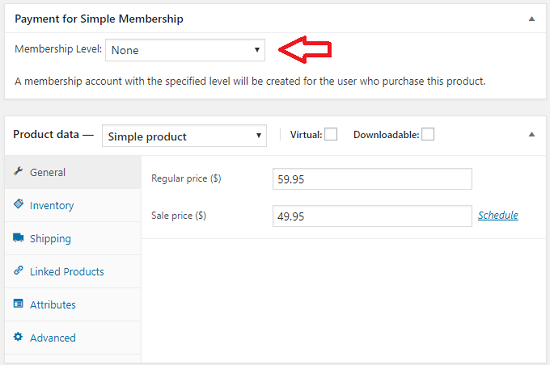 I hope the instructions above helps you.
If you have any questions please let me know. I will be updating this tutorial from time to time.
Enjoy.
Simple Membership Plugin Tutorial List: