Create WordPress Backups Using ManageWP Services post provides information about how to create backups using ManageWP services and more.
I have been using ManageWP services for a few years now. I can honestly say that for the little money that I pay on a monthly basis, I receive a fantastic service and super great support. Oh and if you can't afford to pay any money because of financial circumstances, you can use their free services to manage your sites as per terms of services, (This could change in the future as per ManageWP privacy policies and terms of services). Well done ManageWP team.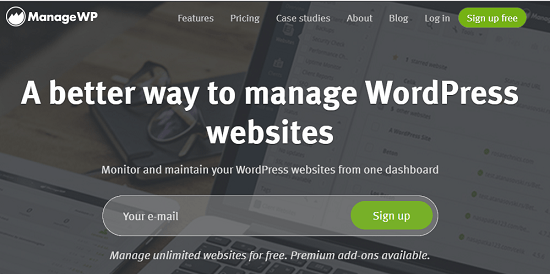 In this post, you are going to lean how backups are created using ManageWP services. If you are not using ManageWP and you manage multiple WordPress sites, then this is the service for you. It is a great tool to help you manage all the backups for all the WordPress sites you currently manage. You don't have to log in individually to each site to carry out your backups.
What You Need:
Create WordPress Backups Using ManageWP Services
Step 1 ) Click on the following URL ManageWP website to log in. Then click on Log in link located at the top of the site. Then you will see the following Sign in image. Log in and start managing all your WordPress sites.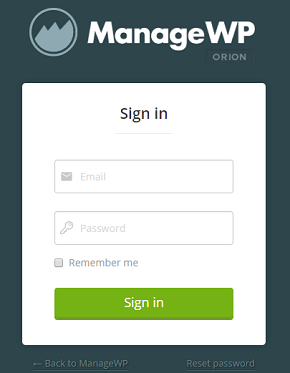 Step 2 ) The following image shows you the Websites button on the left hand sidebar in admin panel. Click on this button and you will see a list of the sites you are currently managing.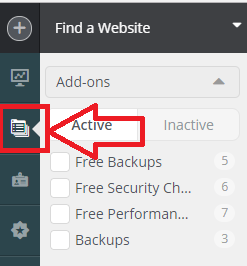 Step 2 ) The following image allows you to click on the View Backups icon for the site selected.
Note: This procedure can be carried out for all the sites you are managing.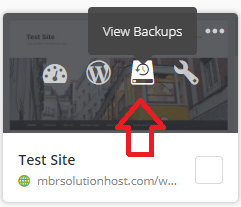 Step 3 ) The following image displays a calendar letting you know the activities carried out for the site in question.
Calendar Information
Latest backups
Next backup
Click on Backup now button.
Schedule backups every month = The backups in this set up will run at around 4.58 am every day 6th of the month. (This is a typical set up for free accounts)
Overview Backups
Step 4 ) The following image Overview displays the backup admin panel. Here is where you can set up the different backups for a site.
Site Backup Admin Panel Settings
Overview
Content
Settings
Restore from ZIP
Site Backup Information
WordPress version: 4.9.5 – Backup size: 105.06 MB
Active theme: Twenty Eleven v2.7
Active Plugins: 10 – Published posts: 5 – Approved comments: 1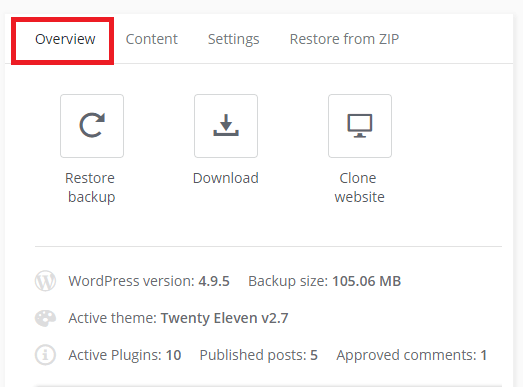 Backup Content
Step 5 ) The following image Content displays the size of the backups created for the site.
Site Backup Admin Panel Settings
Restore backup
Download
Clone website
Site Backup Information
Files = 103.2 MB
Database = 1.86 MB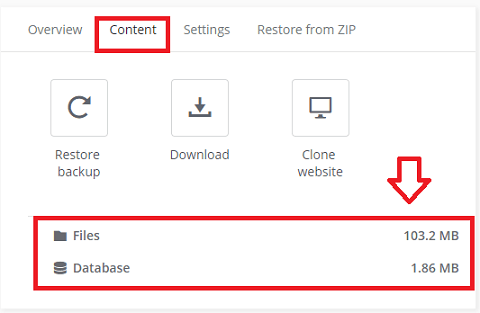 Backup Settings
Step 5 ) The following image Settings displays the following settings you can adjust for the site.
Site Backup Settings
Backup schedule
Include/exclude content
Storage Region
Event notifications
FTP Settings – Optional
MySQL Settings – Optional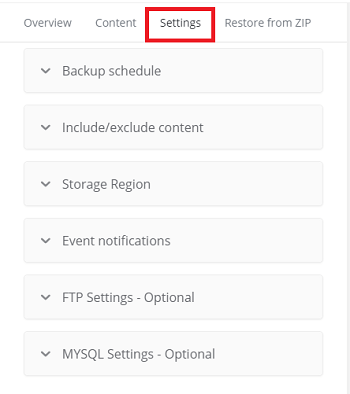 Restore from ZIP
Step 5 ) The following image Restore from ZIP allows you to set up the following options.
Site Restore from ZIP Settings
Enter URL to zip archive
Create new admin (optional)
Click on Restore button when you are ready to restore your site.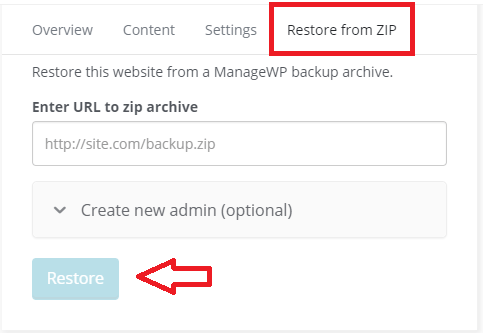 I hope the above information can help you se tu your backups using ManageWP services.
If you have any questions please let me know.
Enjoy.