WordPress Affiliates Manager Admin Functions shows you how to manage and setup the plugins admin functions and more.
Last Updated: April 14, 2021
Latest News: Updated the documentation.
The following instructions help you manage the admin functions added in the Affiliates Manager plugin. Currently there is only one admin function added, but this will grow in time.
In this post you will learn how to delete clicks data that are no longer needed in your site. This helps reduce the database size for your site.
What You Need:
WordPress Affiliates Manager Admin Functions
Step 1 ) Go to Affiliates -> Admin Functions as illustrated in the following image.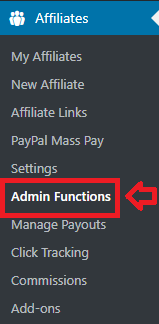 Step 2 ) The following image shows you the reset buttons fields you need to fill out so that you can delete the obsolete data clicks from your site. This will reduce the database size and improve your sites functionality and performance as well.
Reset Buttons
Enter the Start Date and the End Date to begin.
Click on Delete Clicks Data button when you are ready to delete obsolete data clicks.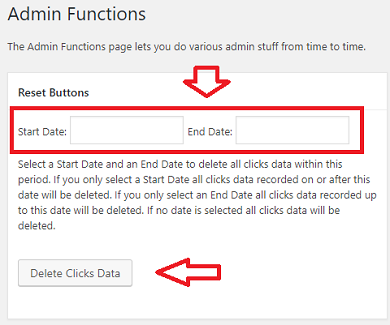 ==================================
That is how simple it is to delete old data clicks from your site.
If you have any questions please let me know.
Enjoy.
WP Affiliates Manager Tutorials List