How To Change Facebook Page URL will teach you in a few steps how to change the page URL name.
Last Updated: December 1, 2023
Latest News: Updated the documentation.
What You Need:
Important: It is important to note that you need at least 25 fans before you can create a custom URL for your Facebook page. You must also be an admin of the Page in order to secure its custom URL.
How To Change Facebook Page URL Steps
Note: If you want to read more about Facebook instructions click on the following link, Facebook Help.
Step 1 ) Log into Facebook and open your Fan Page found on the left hand side of your Facebook account after Favorites.
Step 2 ) On the top right hand corner you will see the following menu. See images below.
Click on Edit Page and then click on Update Page Info.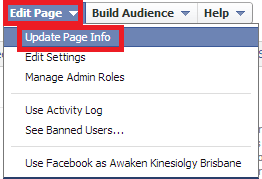 Once you have clicked on Page Info tab, click on Enter a Facebook web address.

Click on Create a web address for this page? 

Next carry out the following steps in numerical order, 1 – Select a Page Name, 2 – Enter desired username and 3 – Check Availability.

If the name you have chosen is available you will be able to change it. Remember Facebook states that it only allows you to change it once. So make sure you are happy with your decision.
Info: Of course this is subject to change if Facebook ever decides to change this policy.
Click on the following URL Create Facebook Album to learn more.
I hope you enjoyed this simple tutorial. I will be updating this tutorial when ever Facebook changes their procedures or policies.
Enjoy
More Facebook Tutorials: