WordPress Simple Shopping Cart PayPal Language Encoding post will help you set up your encoding language settings for your shopping cart.
Last Updated: July 12, 2023
Latest News: Updated the documentation.
This will help you to troubleshoot the problems with your e-mail sending gibberish characters or simply not been able to view all the characters in an e-mail received from your clients.
This happens when your PayPal profile settings is configured with a non-western language and you receive an e-mail from a buyer using western language encoding. That is why some characters will be missing or displaying incorrectly.
WordPress Simple Shopping Cart PayPal Language Encoding Steps
Note: If you can't find the link in your PayPal account, use the following link instead: https://www.paypal.com/cgi-bin/customerprofileweb?cmd=_profile-language-encoding
Step 1 ) Go to www.paypal.com and click on Log In. See image below.

Step 2 ) Click on My Account -> Profile -> My selling tools. See image below.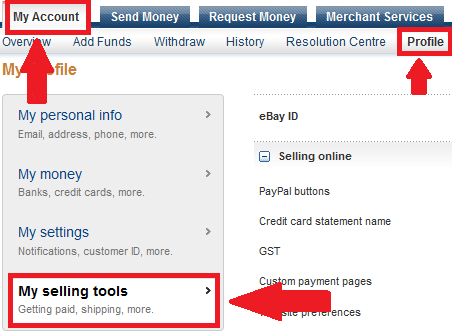 Step 3 ) Go to the bottom of the page until you come to Shipping my items. Click on the URL link PayPal button language encoding. See image below.

Step 4 ) Select the language of your choice from the drop down menu. Each language uses different encoding methods. So make sure you choose the correct language. See image below.
Note: I have selected Western European Language (Including English) which represents UTF-8 format.

Step 5 ) One you are finished select the encoding language click on Save button. See image below.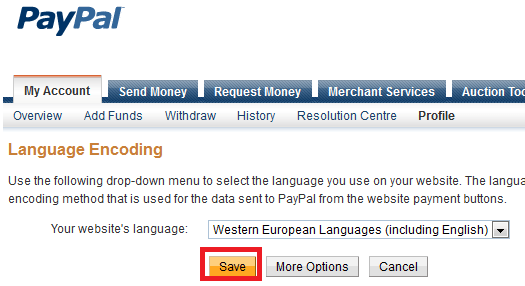 Click on the following link Create A Simple PayPal Shopping Cart to complete the tutorial.
I will be updating this post from time to time. So keep coming back for more.
Enjoy.
WordPress Simple Shopping Cart List