Suffusion Google Analytics guides you and helps you set up your Google Analytics in Suffusion theme.
Last Updated: April 23, 2016
Latest News: I have added a new image below.
Suffusion Theme Options Back end Tutorials:
Suffusion Google Analytics Steps
Step 1 ) Log into Google account and go to Account tools and click on View account data. See image below.
Step 2 ) The next image Dashboard displays a list of tools in your account. Select Analytics and click on Settings.
Step 3 ) In the following image click on Admin button.
Step 4 ) Go to PROPERTY and click on Tracking Info. See image below.
Step 5 ) The following image displays the code you need to select and copy to your clipboard.
Inportant: The UA number has been removed for privacy reasons, your number will be displayed. Remember that if you have more than one account, you have to make sure you select the correct code per account.

Step 6 ) Log into your website admin panel. Click on Appearance >> Suffusion Options >> Back-end >> Analytics. See image below.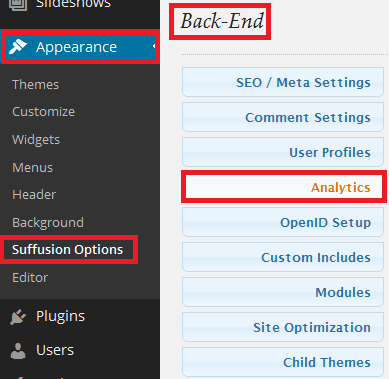 Step 7 ) Make sure you select Analytics enabled options and you paste the code you copied above which should be on your clipboard into the white space where it says Paste Code Here. See image below.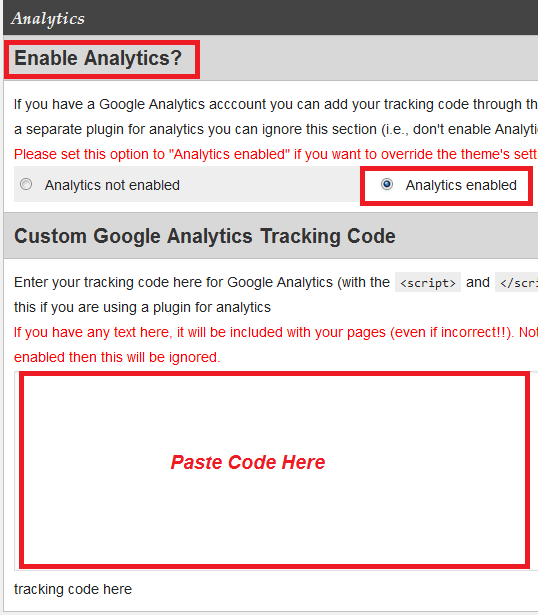 Step 8 ) Make sure you click on Save/Reset and click on Save page 'Analytics' button. See image below.
That is all you need to do to add your Google Analytics to Suffusion theme.
I will be updating this tutorial from time to time, so make sure you come back for any updates.
If you have any questions please let me know.
Enjoy
More suffusion tutorials:
More Google Tutorials: