How To Add Google Adsense to WordPress tutorial will show you how to add Google Adsense using a plugin or shortcodes.
Last Updated: July 27, 2017
I have changed the whole tutorial and added up to date information which will help you further. Remember that this method requires manual insertion. If you want to automatically add the ads to your website you need to use a different plugin.

Latest News: I have added more information below.
WP Simple Adsense Insertion 1.9 Changelog
Ability to use in-article ad code. If specified, the ad code is inserted after the 2nd paragraph of every posts.
What you need:
Set up your Google Adsense. Check the following URL How To Setup Google AdSense.
Install WP Simple Adsense Insertion plugin.
If you have Suffusion Theme, you might like to read the following URL Suffusion Adding Adsense. (Optional)
How To Add Google Adsense to WordPress
Step 1 ) Go to Settings -> Adsense Insertion. See image below.
Step 2 ) Copy and paste Google Adsense code into the lart box as illustrade in the following image. After you have pasted the code then you can use the following shortcode [ wp_ad_camp_1 ].
Note: Remember you can add up to 5 different Google adsense code. However bare in mind that more than 3 will be classified as Spamming and Google won't like it.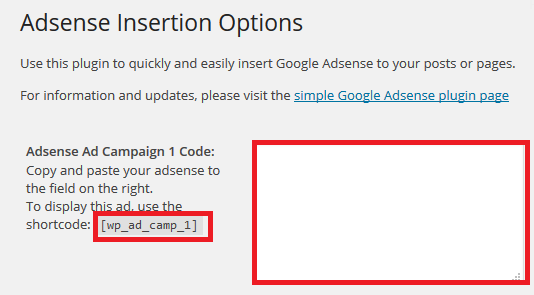 Step 2-a ) The following option allows you to add an ad code to an article in your site. (Added in version 1.9)
In-article Ad Code: Copy and paste your adsense code that you want to add inside the article.
The ad code will be inserted automatically after the 2nd paragraph of every post.
Step 3 ) Go to your post or page and add the shortcode from above. Make sure you add the correct shortcode. Click on Text editor tab and paste your shortcode. Avoid using the Visual editor just in case the code becomes corrupted. Make sure the shortcode does not have any empty spaces because that will render your code nonfunctional.
Step 4 ) The following image shows you your Adsense displayed on your website.
Google Adsense Code Size added:
google_ad_width = 728
google_ad_height = 90
It is obvious that the following size image should be added to the top area of the page or post. You could even add this Adsense to the footer. Remember that when adding advertisement to your website you need to plan how to add the ads, where to place them and how many to add. Three should be the maximum Google Ads you should add.
Note: Remember you have up to 5 shortcodes you can activate.
Adsense Common Displaying Methods
Step 4 ) The following images shows you the most common methods to add Google Adsense to your website.
Method 1 = no sidebars added to the website.
Method 2 = adsense added to the left sidebar, top and footer.
Method 3 = adsense added to the left sidebar, top and middle of the page. In the following example you will need to wrap the text around the adsene code. Use the following HTML code in your page or post.
Note: Always remember to include the correct shortcode in between the div tag.
<div style="float: left;">
[wp_ad_camp_1]
</div>
That is how simple it is to add a Google ad to your website. If you have any questions please let me know.
I hope you enjoyed this simple tutorial. I will be adding more information soon.
Enjoy.
Other Advertising Plugins: