Photonic Generic Options shows you how to configure the plugin, change the settings and add custom non bundle ligthbox libraries options.
Last Updated: September 17, 2021
Latest News: Updated the documentation.
This post will help you set up the generic settings in Photonic. These settings control the overall WP Gallery display if you choose this plugin to display your images in your website instead of the default settings that come with WordPress.
Note: These are simple and easy to follow steps, however you still need to test your settings before you publish your website or blog.
What You Need:
Photonic Generic Options Steps
Step 1 ) Go to Photonic -> Settings -> Generic Options as illustrated in the image below to start adjusting the settings. There are many tabs that allows you to manage your WordPress galleries and more. The following is the list of tabs you can configure for your galleries.
Generic Options Features
How To
Generic settings
Layouts
Native WP Galleries
Slideshow settings
Overlaid Popup Panel
Photo Template
Advanced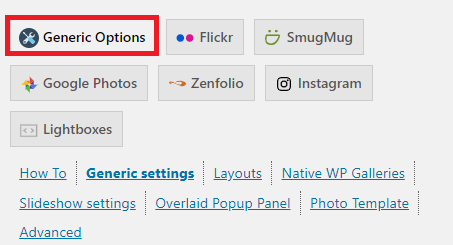 Generic Settings
Step 2 ) The following Generic settings allows you to set up the following options.
Custom Shortcode
Create a custom shortcode if the default shortcode Gallery used by Photonic is already being used by your theme or another plugin.
Inbuilt Lightbox libraries
FancyBox 3
https://cornel.bopp-art.com/lightcase/Lightcase
Thickbox
None
Non-bundled (You have to provide the JS and CSS links)
Non-bundled Lightbox libraries
Step 3 ) The following are also other settings you can configure.
Non-bundled Lightbox JS
Custom Lightbox CSS
Don't include third-party lightbox scripts
Don't include third-party slider scripts
Photonic Lightbox for non-Photonic Images
Photonic Lightbox for non-Photonic videos (YouTube / Vimeo etc.)
Include Photonic JS for non-Photonic Images / Videos
Force JS in header when possible
Disable shortcode editing in Visual Editor
Disable Visual Editing for specific post types

Posts (Post type: post)
Pages (Post type: page)
Media (Post type: attachment)
Blocks (Post type: wp_block)

Use traditional interface for editing in Visual Editor
Globally turn off Workflow Editor
Nested Shortcodes in parameters
External Link Handling
Custom CSS in its own file
Once you have completed the Generic Settings you have three options as illustrated in the image below.

Save page "Generic settings"
Reset page "Generic settings"
Delete all options

Click on the following URL Photonic Generic Options Layouts.
This tutorial will be updated from time to time in accordance to any new changes made by Sayontan Sinha the developer.
If you have any questions please let me know.
Enjoy.
Photonic Plugin Tutorial List: