CataBlog Options Export Tutorial shows you how to export your settings so that you can backup and protect your work. This file will be used later on to import your settings.
Last Modified: January 23, 2018
Latest News: I have reworded this post for better reading.
Backing your data is one of the first action you should always take. So many times I hear of people loosing their data and or their website has been corrupted. By carrying out the following task you will limit the risk of loosing your data.
Of course you can always carry out full website backup. But this process is simple and quick. It can help you are only interested in backing up your CataBlog data.
CataBlog Options Export Tutorial
Step 1 )  Navigate to CataBlog -> Options -> Export to select how you want to export your settings. The following image shows you the following buttons.
Export Options
Save XML BackUp File
Save CSV BackUp File
Click on Save Changes button when you have finished.
Click on undo current changes link if you undo what you have done.
Note: It is always a good idea to test your exporting files to make sure they work correctly.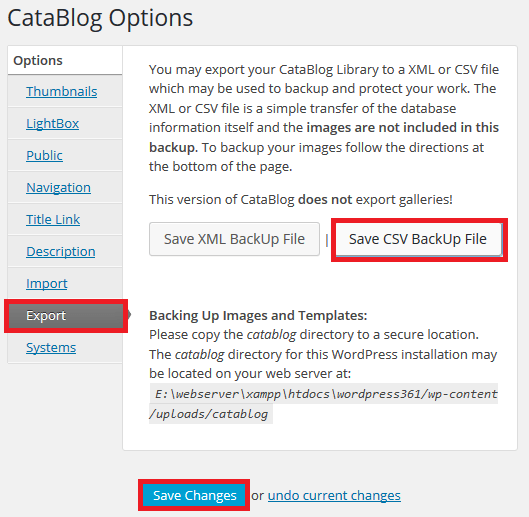 Step 2 )  Once you have exported the file locally to your computer or laptop, check the file by opening it using a simple text editor.
It is a good idea to always check to make sure your export file is working correctly. You might want to test your file by importing the file in a testing environment or in your website. I know this can be a bit challenging for some. But it is important never the less.
If you are going to import the file into your website again make sure you select to wipe the database and remove all data before running the import option by checking the Replace All Data checkbox.
Before Testing The Import:
Create a database or a full backup
Import the CSV file and check to make sure everything is working
If something went wrong restore your backup
Note: For images and Templates follow the plugin instructions found in the Export Options. Each website has a different file path location.
If you have any questions please let me know.
Enjoy.
CataBlog tutorials list: