Manage WordPress Vantage Theme Listings shows you how to edit, manage, search, display and add a new listing to your site and much more.
Last Updated: January 15, 2019
Latest News: I have repaired a broken link.
In this post you will learn how to add new listings, manage your listings, edit and search for your listings. Adding listings is like adding new post or page in WordPress. Vantage makes this task very easy for you to carry out. You can also use the sample listing data you installed as a guide.
Note: You can read more about enabling sample data from the following URL How To Install WordPress Vantage Theme.
Manage WordPress Vantage Theme Listings
Step 1 ) The following image Listings menu allows you to control and manage the following listings options. The following list is very similar to the posts admin menu in WordPress panel. You create new listings and you can also create categories and tags for your listings.
Vantage Listings
All Listings
Add New
Categories
Tags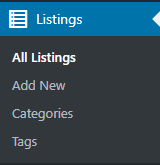 Site Listings
Step 2 ) The following image Listings shows you a list of the listings added to your site. In this example you can see the default listing added when you install the theme and enabled the sample data to be installed.
Listings Editing Options
You can click on Add New button to start creating your listings.
When you have too many listings you can use Search Listings search field to search for your listings.
You can carry out Bulk Actions.
You can filter through your listings.
Listings Headers
Title
Author
Listing Categories
Listing Tags
Expires
Location
Comments per listing
Date published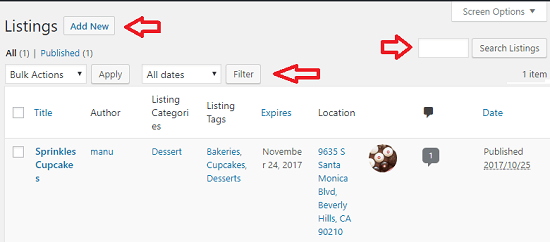 Step 2-a ) The following is a list of data you can enter for each listing you add to your site.
Note: Adding a listing is very similar to adding a Page or Post in your site.
Listing
Duration days (0 = Infinite)
Start Date
Expires on
Feature on Homepage
Duration days (0 = Infinite)
Start Date
Expires on
Feature on Category
Duration days (0 = Infinite)
Start Date
Expires on Toggle panel:
Claimable Listing
Users can claim this listing
Contact Information
Location
Phone
Website
Email
Google+
Facebook
Twitter
Instagram
YouTube
Pinterest
The above instructions shows you how simple it is to add listings to your site and manage them. If you have added posts and pages before then this will be a piece of cake for you.
If you have any questions or suggestions please leave a comment.
There will be more tutorials coming soon. So make sure you keep coming back for the latest.
Enjoy.
Vantage Theme Tutorial List: