Fix Joomla Common Errors is a list of the most common errors that users experience. I will be adding more as I come across while helping users to resolve their issue and on other sites.
Last Updated: June 15, 2016
I updated or created a new article, when I view it on my browser it has not changed. Some common solutions is to clear the cache on your browser and the cache in the back-end of joomla Site >> Maintenance >> Global check in, Clear Cache and Purge Expired Cache. Have a look at the following image. Clear option 1, 2 and 3. Most of the time just clearing the cache in option 2 is more than enough.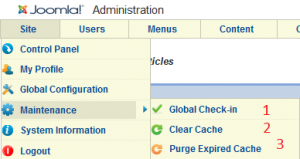 Running Joomla locally using xampp. Here is a great article that will help you and guide to troubleshoot some common errors that occur using xampp. Have a look at the following link setting up your work station for joomla development.
Infinite loop detected in jerror joomla 1.7, there are few reasons this could occur one of them being the tmp folder's path is not set correctly and another could be the password is not type correctly in the configuration.php file. The following post tmp folder issue  is in regards to the tmp folder's path being typed incorrectly in the joomla forum and the following link http://installatron.com/forum/viewtopic.php?f=7&t=31029 is in regards to the password issue in the configuration.php file.
How to move your local joomla to a server, I came across this tutorial and I felt it would be great to add it here. The author shows you how to move your joomla installed locally in your computer to a live server. Click on hte following link move joomla from local to an online server.
Joomla 2.5.2 corrupted the editor and does not allow you to format articles. The solution is to change the admin textfilter tab in Global configuration page from "standard blacklist" to "no filtering". That solves the problem.
If you have any questions please let me know.
Enjoy.