This guide helps you to convert fat32 to ntfs external hard disk. This tutorial is for users who run Windows 2000, XP, Vista or 7.
Last Updated: October 24, 2019
Latest News: Updated the information below.
Note: The following steps works in all Windows versions XP, Vista, 7, 8.1 and 10.
If you purchase an external USB hard drive with more than 250 Gigabytes of storage, you will soon discover that some have limitations when it comes to moving more than 4 GB of data from your computer or laptop hard disk to the external USB hard disk. This is because some external hard disk are formatted into FAT32 file system which means that you're not going to be able to transfer files larger than 4 Gigabytes.
Note: This is the limitation for a FAT32 file system which was great in the days of Windows 95 and 98. Nowadays most of us now are running, Windows 7, 8.1 or 10. Some use Mac or Linux operating system.
So, in order to over ride this limitation you need to convert your FAT32 drive to NTFS. If you already have data copied into the external hard disk then you will have to convert it if not then simply formatted into NTFS.
A word of advice. In an ideal IT world you would perform the above task without any worries but since we are talking about computers and hardware then I suggest that you backup first before you decide to convert the external USB hard disk. It is better to be safe than sorry.
If you have more than a few gigs to backup, click on the following link recommendation tools for windows and download Easeus Todo Backup to create an image of your external USB hard disk. You might prefer to simply copy the files to your internal hard disk or partition; it is entirely up to you. I prefer to create an image using Easeus todo backup because it creates a compressed file.
Follow the instructions below:
Step 1 ) Run the command prompt as Administrator, if you are running Windows Vista or 7 click on start > Accessories > right click on Command Prompt and select Run as Administrator. For Windows XP click on start > run and type cmd.

The following image shows you Windows 7 start button and the search program and file entry field. Windows 10 is very similar.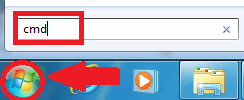 Step 2 ) At the command prompt, type the following C:\Users\name of user>convert f: /fs:ntfs /nosecurity

Where f: is the drive of your external hard disk. The /fs:ntfs is the switch that will convert a FAT32 file system into NTFS file system. The /nosecurity specifies that the converted files and directory security settings are accessible by everyone.
When prompted to "Enter the current volume label for drive F:", if your drive has a label, you need to enter it e.g. Apollo or what ever you had. If you don't have a label then don't worry and simply press enter and it will leave it blank.
To find the volume label (if there is one specified), go to My Computer, right-click the drive you're trying to convert in my case the drive is F:, select Properties. In the General tab, the volume label is the name in the first field.
If you can't convert the external hard disk because of some type of error then simply while in command line type CHKDSK /F, this will fix any errors. If it doesn't then you have to investigate further. It might also say that it can't convert the external hard disk because some other program is using the drive. Simply close all windows that are connected to the external hard disk and that will fix this problem.
Note: If the above is not easy for you and you prefer a more graphical and easy to follow steps, click on the following link AOMEI NTFS to FAT32 Converter.
If you have any questions, please let me know.
Good luck.
Return Back To: