WordPress SEO Framework Extension Manager will add more power and control over The SEO Framework. It is a must have extension.
Last Updated: November 14, 2017
Sybre Waaijer has done it again with this extension. He truly is going to bring a great SEO service to the WordPress community.
The SEO Framework Extension Manager brings so much control over the The SEO Framework. This will allow you to add extra tools, services Free or Premium. Purchasing the Pro services will depend on your needs, your website and or your business. The Free version is just as powerful and it will be more than enough for most of you.
The SEO Framework – Extension Manager changelog 1.4.0
New Extension:
Origin: This free extension redirects attachment-page visitors back to the parent post.
Plugin Improvements:
Added: Since we now have extension overview pages, non-tracking links have been added for each extension.
Improved: Semantics regarding the differences between Premium and Free.
Fixed: Buttons no longer disappear on hover in EdgeHTML.
Fixed: Button shadows no longer flicker on hover in Blink.
Extension Improvements:
Free – Honeypot:

Version:

1.1.0
This extension is now freely available to everyone.

Free – Articles:

Version:

1.1.0
This extension is now freely available to everyone.

Free – Origin:

Version:

1.0.0
This is a new extension.
What You Need:
WordPress SEO Framework Extension Manager Steps
Step 1 ) Once you have installed the extension you will notice a sub-menu under SEO. See image below.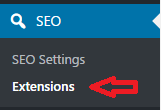 Step 2 ) When you click on Extensions in the menu the following image will be displayed. You then have the following options.
SEO Extensions
Get your key
Use your key
Go Free
Step 3 ) When you click on Save a few bucks button illustrated above, you will see the following options. See image below.
SEO Trends and Updates
Account and Actions
Free Support
Use this key
Permium Support
Extensions
Title Fix
Incognito
AMP
Local = Premium
Free Honeypot
Free Articles
Free Origin
This extension is in its early stages so expect for this extension to grow and have more features added in the future. Once this new features are added I will keep updating this post to implement any changes made.
Click on the following URL Posts Metabox Settings to learn more.
I will be adding more information soon. So keep coming back for the latest. If you have any questions please let me know.
Enjoy.
The SEO Framework Plugin Tutorial List: