Facebook Security Settings Access Code shows you how to retrieve your security code to access your account, save your browser session and more.
Last Updated: December 1, 2019
Latest News: Updated the documentation.
Before you begin reading this documentation make sure you have set up Two-Factor Authentication in your account. If you haven't click Two-Factor Authentication link to get started.
This documentation shows you how to retrieve the security code and save your browser session.
What You Need:
Facebook Security Tutorials List:
Security Settings Access Code
Important: If you want to prevent your account from getting hacked, I suggest you activate this security option. In my opinion this type of security should be mandatory by Facebook.
Facebook Security Settings Access Code
Step 1 ) The following image Enter Security Code to Continue lets you know that if you don't enter a security code in the field provided, you will not be able to log into your Facebook account.
Enter Security Code to Continue Settings
Type in the security code in the following field Enter code.
Click on Can't find your code? link to view the options available to get the code.
Click on Continue button once you have entered the security code.
Step 2 ) The following image shows you a window with a few options to retrieve your code or get help. If you don't have an App installed in your Smartphone click on Text me a security code link.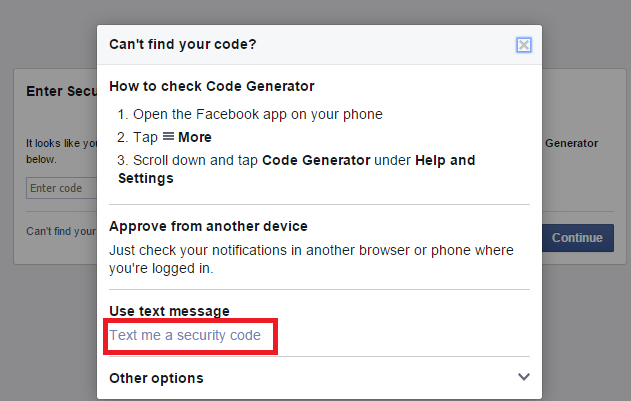 Step 3 ) The following image Remember Browser gives you two options, Save Browser or Don't Save the browser session into the a cookie that gets deposited into the browser temp folder. This lets the browser know about your previous session next time you decide to log into your account. What this means is that you don't have to type the security code again.
Note: If you delete your browser cache you will have to type your new security code again to access your account.

Step 4 ) Once you log into Facebook you will see the following notice. Review this notice and make sure the logging from the browser and or device is correct.

Login Alert
Step 5 ) The Login Alert gives you some information of what has happened recently in your account. You have the option to either Manage Alerts or simply Go to News Feed.

Step 6 ) The following image Login Alert displays the e-mail alert sent to your e-mail account. This lets you know of the recent activity in your account. It is important to check this e-mail and take action if you know that it was not you who logged into your account recently.
You have the option to click Check Login or Manage Alerts buttons. If you know it was you who logged in then you can disregard the e-mail.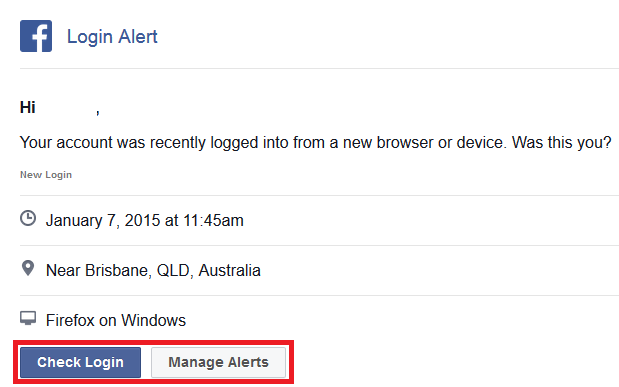 I hope the information above helps you. As you can see Facebook has done a great job implementing this security feature for your account.
Click on the following URL Facebook Privacy Shortcuts to learn more.
If you have any questions please let me know. I will be updating this post from time to time so make sure you come back for the latest news.
Enjoy.
Facebook Tutorials List: