Getting eBay Feedback post talks about how and why would you want to get feedback from buying or selling.
Many times you ask yourself how important is it to get feedback when you buy a product or sell a product. eBay has a star ranking system that most people check to see how well the seller is known on eBay. You also look at the reviews which are equally important as the star ranking system.
The larger the number against the seller the better are your chances of having a smooth transaction. When I started buying and selling on eBay I was not aware of this and lucky for me when I purchased some goods from non reputable sellers it went smooth. However you must always read the reviews, pay attention to how many people have purchased from the seller and find out how long have they been trading online with eBay.
Getting eBay Feedback Steps
The following image provides the following information.
The title of the menu you are reviewing in your eBay account.
The way you want to sort your view.
Allows you to view seller's items, visit seller's store and perform more actions.
Displays the store name, the number of reports, the star color, percentage of positive freedback and the date it was added to the list.
Option to select one or more seller's in your list.
If you have selected your seller as top pick and if you have subscribed to the seller's news letters.
You have three buttons, you can delete, add to list or edit seller's preference.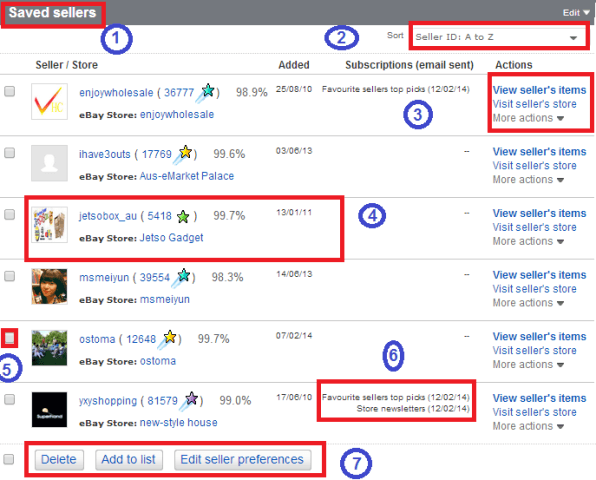 The following image displays my account name, feedback number and color star. Most of the star ranking is based on my purchases.

The following image allows you to.
Send an e-mail to your friends reporting the seller. Share on Facebook, twitter and Pinterest.
Displays the seller's name, number of feedback and the star color.
You can save the seller to your list and view other items.
If the seller has a store it will display on the list as you see below.
It also applies to sellers. If you are a seller and you sell a product you will also sometimes want to check the reviews for the buyer. You want to make sure the buyer has good reviews while buying on eBay.
I will be adding more information soon. So keep coming back to read the latest.
If you have any questions please let me know.
Enjoy