Last Updated: December 08, 2015

WordPress themes Suffusion 4-4-8 Is a very powerful theme with a very intuitive framework that you can develop further. It is FREE.
Latest news: Suffusion has update the theme to version 4.4.8. You can read more about the updates on the following link Suffusion 4.4.8.
Information: Suffusion 4.4.8 works with WordPress 4.3.1 and 4.4 RC1.
Important: Jason Lasky in wordpress.org has reported a minor bug between Suffusion 4.4.7 and WordPress 3.9. Suffusion custom background color is not showing on website. Background defaults to theme skin default and blocks WP native background setting as well.
To set a custom color, return to Suffusion option / background / theme default and then use the WP Native background option to select a color – which will now show up on front end.
Note: Since the new theme version had all intergrated plugin options removed because of the terms of wordpress.org, you now need to install Suffusion Shortcodes plugin. This will allow you to use the many shortcodes availables with Suffusion.  
Is a very powerful theme with a very intuitive framework that you can develop further. There are so many options to change that at the beginning you will need some time to get your head around all the options you can change on the theme. I highly recommend this theme if you are very keen in developing a great blog, website using all the features it has to offer.
This is what Sayontan Sinha says about this theme. An elegant, versatile and browser-safe theme with a power-packed set of options. It has 19 widget areas, one-column, two-column and three-column fixed-width and flexible-width formats, 10 pre-defined templates, 18 pre-defined color schemes, two customizable multi-level drop-down menus, featured posts, a magazine layout, tabbed sidebars, widgets for Twitter, Social Networks and Google Translator, translations in many languages and RTL language support. WP 3.0 Menus, Custom Post Types and Custom Taxonomies are integrated. A BuddyPress support pack is available as a plugin for smooth BuddyPress integration.
The following image illustrates the power and control Suffusion provides. The theme gives you total control of all possible layouts for a website or blog.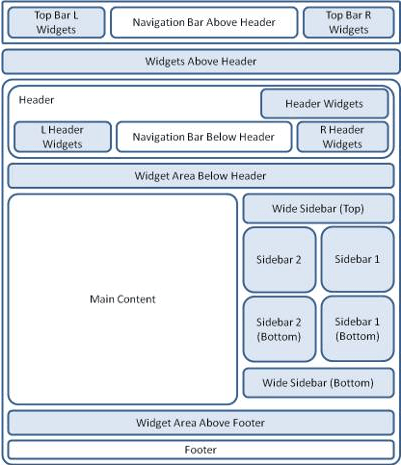 This theme will not disappoint you, with all the features it has. Go ahead and install it on your WordPress website/ blog. The theme is licensed under GPL version 3.
I have started to write tutorials, to help you with understand and configure the many options it has. Click on the following link Suffusion Theme Tutorials
You might be interested in the following link WordPress Plugins Compatibility, which talks about plugins that are compatible with the current version of WordPress, beta release and candidate version. I also recommend all these plugins with Suffusion theme.
If you have any issues with Suffusion, click on the following link suffusion forum to get help. The support team their will help you with all your questions.
I hope you enjoy this great Theme