WordPress Speed Booster Pack Plugin post will help you improve the speed, performance of your website and reduce the usage of resources in your server.
Last Updated: May 8, 2017
If you want to improve the speed, loading and resource usage in your website then this is the plugin for you. It is very simple to set up and at the same time very powerful. That is why I recommend that you create a backup before you begin setting up the plugin. Also it is very important that you read the documentation before you begin.
Speed Booster Pack version 3.1 Changelog
Following requests from users, added back the option of excluding javascript elements.
What you need:
Speed Booster Pack Tutorials
Speed Booster Pack Plugin
WordPress Speed Booster Pack Plugin Steps
Step 1 ) Go to Settings -> Speed Booster Pack to set up and start improving your website speed and performance. See image below.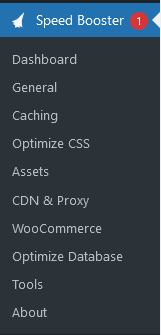 Step 2 ) The following image displays the plugin admin settings page. These are the following features you can enable and configure to improve your website speed.
Admin Settings
General Options
Change the default image compression level
Still need more speed?
Home Page Load Stats
Step 3 ) The following image Home Page Load Stats displays your current site statistics. This is what you will be working with. These numbers will change once you start enabling and configuring the plugin. The following statistics displayed in the image for this example are letting you know the following.
The current page loading time in seconds is 0.39 s, which is very fast.
The number of executed queries is 29 q. This is also very good.
Peak memory used is 22,33 / 256M. This means that your site is not using much memory and therefore it is loading very fast. It also lets you know that you have plenty of memory "resources" available in your website.
Number of active plugins 1. This is great although in the real world you would have more plugins active. This is probably why in this example the memory used is very little.
General Options
Step 4 ) The following image General Options allows you to enable the following options.
Main plugin options
Move scripts to the footer
Load JS from Google Libraries
Defer parsing of javascript files
Remove query strings
Remove extra Font Awesome styles
Remove junk header tags
Remove RSD Link
Remove WordPress Shortlink
Remove Adjacent Posts Links
Remove Windows Manifest
Remove the WordPress Version
Step 5 ) The following options have been added again in version 3.1 as per users request.
Scripts Control
Exclude scripts from being moved to the footer
Exclude scripts from being deferred
Note: Controlling scripts is a very tricky action. So make test thoroughly before implementing this option. You should read the following detail documentation before you start managing the scripts.
Step 6 ) The following image Change the default image compression level allows you to adjust the compression level of the images you upload. By default WordPress is set up to 90 compression level. The instructions for this settings recommends that you set it up between 50 and 75.
Note: You might like to visit the following URL WordPress Optimize Images Plugins. This list of plugins will help you optimize the images already uploaded in your website before installing Speed Booster Pack.
Still need more speed?
Step 7 ) The following image Still need more speed? allows you to enable the following option.
Step 7-a ) The following image displays extra options once you enable Load CSS asynchronously. This gives you more options to further improve your website speed.
More Speed Extra Options
Load CSS asynchronously
Minify all CSS styles
Insert all CSS styles inline to the footer
Disable all above CSS options on mobile devices
CSS handle = this will display all the css handle the plugin has detected in your site. There might be some css files that have not been picked up.
(Quoted in the plugin)
Note: If you enable the following option Insert all CSS styles inline to the footer, this option will eliminate render-blocking CSS warning in Google Page Speed test. If there is something broken after activation, you need to disable this option. Please note that before enabling this sensitive option, it is strongly recommended that you also enable the "Move scripts to the footer" option mentioned in Step 4 ) above.
That is all you need to do to configure this very powerful plugin. Remember to make sure you carry out some testing before you enable some or all of the options and you save the settings.
Note: In most cases you will not be able to enable all of the options. 
Click on the following URL WordPress Speed Booster Pack Optimize Site Steps to learn more.
I will be updating this tutorial from time to time. Make sure you come back for the latest updates.
If you have any questions please let me know.
Enjoy.